30 Concept Artists To Follow On Instagram
Resources
Disclosure: This post may contain affiliate links. That means if you buy something we get a small commission at no extra cost to you(learn more)
The concept art scene is also alive and well on Instagram with hundreds of industry professionals share artwork on the regular.
It's a place where professionals can share not only their work for a movie or game, but also their lunch break sketchbook doodles. The informal atmosphere makes these industry legends more approachable for those of us who want to make it in the concept art business, so we can feel free to comment on their work or strike up a conversation with them.
And who knows—maybe they'll follow you back!
It's amazing how much variety you can find too: vehicles, creatures, monsters, characters, and environments. Anything you could possibly be looking for. If you know exactly who to follow then your Instagram feed will soon be full of inspiring concept art.
To get you started, here's a list of 30 particularly talented and noteworthy artists that you definitely don't want to just scroll past.
Shelly Wan
Shelly Wan is a Chinese concept artist most recently credited with her work as an environment and character artist for Disney Pixar's hit film "Coco".
Shelly has also worked on well-known films like Monsters University, Inside Out, and Finding Dory. Not only does she post work from the films she's been a part of, her vibrantly colored plein air paintings make an appearance all throughout her Instagram page.
David De León Luis
Tap into David De León Luis's Instagram page and you'll be met with a menagerie of fantastical monster and creature concept art.
He's most active in the video game industry and has a large part in the creation of "Way of Redemption", a Multiplayer Online Sport Arena game. He likes to explore different variations on each design whether it's head styles or skin markings or the amount of arms a creature has.
Braydan Barrett
Braydan Barrett's Instagram account is full of masterfully drawn concept pieces, mostly of vehicles and buildings.
They're all done in ink and illustration marker, sketchbook-style. If you're into robots, airplanes, and spaceships with a futuristic junkyard style, Braydan's the artist for you.
Tatyana Latypova
Tatyana Latypova, aka Cg Sister is a wonderfully talented character concept artist whose work brings you back in time to an age of knights, dragons, and elves.
Each of her paintings are beautifully rendered and there's a lot that can be learned from her grasp of light and color.
Calum Alexander Watt
Calum A. Watt's style is simple but extremely effective. He shows off this style in his costume concepts for games like "Alien Isolation" and "Batman: Arkham Origins Blackgate".
Watt isn't afraid to play with unique color choices in his concepts. He uses just a few tonal values in his storyboards to expertly communicate mood, composition, and movement.
Jama Jurabaev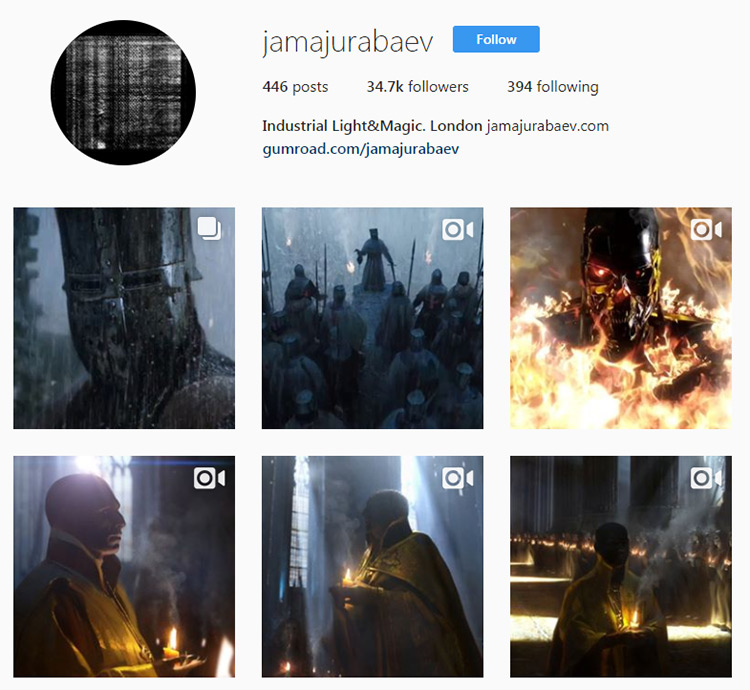 Jama Jurabaev is an incredibly accomplished Tajik concept artist who has worked on films like "Avengers: Age of Ultron", "X-men: Days of Future Past", and "Guardians of the Galaxy".
Jama is an expert draftsman and banter, but likes to take his paintings a step further bringing them into the world of 3D and animation. This is often with tools like the Werble App and 360º panoramic paintings.
Arthur Gimaldinov
Arthur Gimaldinov is a Russian concept artist and illustrator who fills his IG account with vibrant paintings of Blizzard Entertainment's characters for Hearthstone, their collectible card game.
He takes it a step further and also posts one-frame tutorials giving insight into Blizzard character anatomy and lighting.
Ian McQue
Ian McQue is one of the Instagram concept art giants, and it's easy to see why.
Give him a follow and he'll instantly transport your into his own world of ramshackle buildings, star wars-esque speeders and spaceships, and anything else that might fill his sketchbooks… all done with pristine inked linework.
The vast majority of his pieces are done traditionally in sketchbooks, and it's that unmistakable pen-and-paper look that keeps us coming back for more.
Andy Park
Andy Park works as a Concept Artist at Marvel Studios and lately his account has been nothing but character concept pieces from "Thor: Ragnarok".
Each of his characters are posed dramatically in their movie environments fighting the bad guys or saving the day.
If you're a Marvel fan Andy Park is definitely worth a follow.
Sparth
Sparth is the Halo franchise art director and is considered an industry superstar for his work on the Halo series along with games like "Assassin's Creed" and "Prince of Persia".
His concept paintings of Halo-flavored environments, ships, and characters are absolutely breathtaking, drawing you into the scene from first glance.
John J. Park
John Park is a true veteran in the concept art scene. His past projects include Transformers, Godzilla, Uncharted 4, and Halo.
John has a very painterly style and many of his personal pieces make an appearance in his Instagram. From misty morning scenes done from life to characters riding giant lizards, it's all here.
Darren Quach
Darren Quach regularly updates his Instagram with fun and playful ink drawings of mechs, robots, and characters of his own design.
The shape language seen in his designs often gets exaggerated to create an interesting image every time. He's worked on the Ratchet & Clank game series among many others.
Scott Robertson
One of the most well-known concept artists worldwide, Scott Robertson is also the author of the extremely informative books "How to Draw" and "How to Render". Both teach readers how to precisely draw and render in perspective at any view(a crucial skill for concept artists).
All of his posts feature a unique drawing or painting of some sort of vehicle design and they're perfect to copy and learn from!
Eytan Zana
Eytan Zana fills his Instagram with stunning work made for Naughty Dog studios, the makers of the Uncharted franchise, as well as his own personal work which is just as beautiful.
Zana is primarily an environment artist and each post is a portal to another world within his head. This work proves Zana is a master of visual storytelling.
Emerson Tung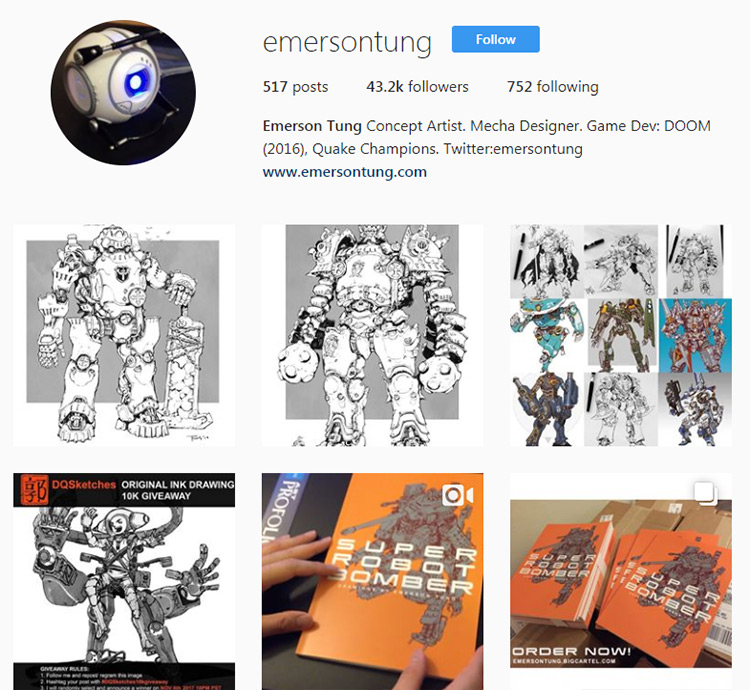 One word can be used to describe Emerson's IG account: Mecha.
His account is absolutely packed with concept sheets of mechs, robots, and suits of mechanical armor. No doubt some of these designs were inspired by his work on the 2016 game "Doom". Make sure you check them out!
Bryan Wynia
Yet another working game and film industry concept artist, Bryan Wynia specializes in creatures and monsters.
Whether it's on a sketchbook page or in Zbrush, his sense of design and creature anatomy always produce something creepy, weird, or interesting.
Enrique Rivera
Enrique Rivera is involved in the creation of well-known Nintendo game titles. His work is arguably at the other end of the art spectrum, the complete opposite of weird and creepy.
His playful, exaggerated, and cartoony style is obvious in each of his character designs. You can spend hours digging through his work.
Joel Dos Ries Viegas
Joel's style might also be described as cartoony, but nothing like what you'd find in a Nintendo game.
In fact his characters look like they eat Yoshi for breakfast.
The creator of the TV show "Urbance", Viegas's style has an attitude of its own. Edgy, angular, and in-your-face.
Colie Wertz
Colie Wertz is a concept artist whose film experience stretches back at least to 1997 when the re-release of "Return of the Jedi" hit theaters.
Since then he has worked on dozens of feature films, and his Instagram reflects the influence each of these projects had on his work.
Filled with mostly hard-surface concepts his page is not something you'll want to miss if you're big into feature concept art.
Mike Corriero
Mike Corriero is a creature designer whose works are mostly done with pencil or ink on paper, and then taken into Photoshop for clean-up and color.
Most of what he posts are sketchbook scans, and scrolling through post after post of hand-drawn creatures makes it feel like some sort of ancient monster handbook.
Tyson Murphy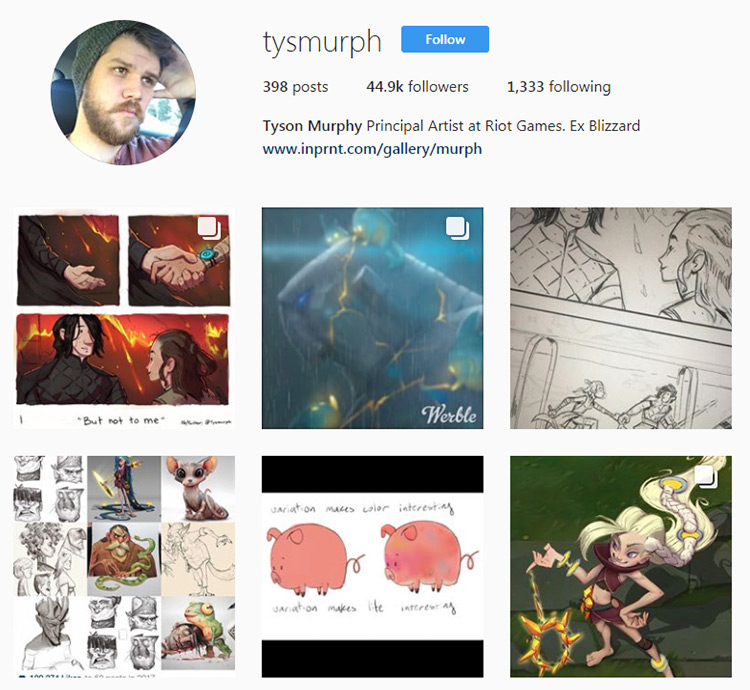 Formerly a concept artist at Blizzard Entertainment, Tyson Murphy is now the principal artist at Riot Games and continues to crank out fun and vibrant character designs.
Throughout all of his posts you'll catch examples of his work for League of Legends, World of Warcraft, Hearthstone, and his own person stuff too.
Jonathan Kuo
Jonathan is an exceptional creature and vehicle concept artist that really knows the importance of anatomy.
Quite often he will explore his designs in-depth beyond the pretty finished painting and post skeletal wireframe drawings of his creatures to show the simple shapes that come together to make each one.
James Paick
James Paick is a phenomenal artist with an immense amount of industry experience.
He's the founder of the Brainstorm school in Burbank— a school to train concept artists, taught by concept artists.
His Instagram page also has a link to his Gumroad where he offers tons of useful tutorials and concept art tips.
Wesley Burt
Wesley Burt is another concept artist that has played a part in both the gaming and film industries.
I first discovered him through his work as an illustrator for Magic: The Gathering and League of Legends. But he's also had major roles in films like "Avengers: Infinity War", "Dr. Strange", and the entire "Transformers" series.
Certainly worth a follow if you like that kinda stuff.
Javier Burgos
Javier Burgos is a concept artist and animator whose work is heavily inspired by classic Disney films.
As a character designer at Ilion Animation Studios, Javier often adds an element of animation to his designs. His characters have a comfortable & familiar feel to them, bringing to mind the animated movies you used to watch as a kid(and maybe still do!)
Mehrdad Malek
Mehrdad Malek is a futuristic vehicle designer whose robots and spaceships really catch the eye.
Each of his concepts are extremely well rendered and composed. It's all too easy to stare at them for several minutes at a time.
Occasionally he'll collaborate with a 3D artist to push his designs even further and the result is always superb.
Gareth Davies
Gareth Davies is a concept artist at Coatsink Studios. His Instagram account is filled with his own ideas from car designs to tank sketches to futuristic swordsmen.
He treats his account as a replay of his own sketchbook and it's always interesting to see what cool designs he'll come up with next.
Ken Barthelmey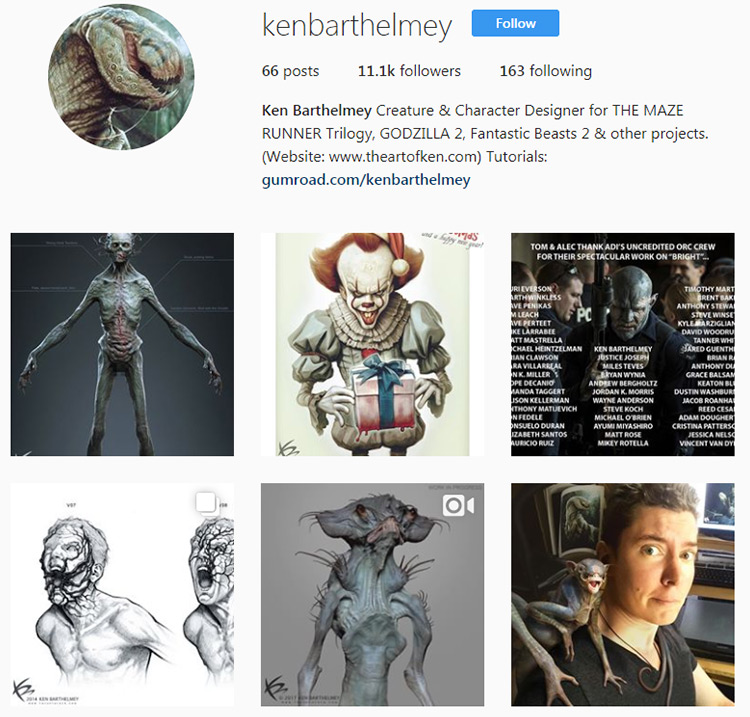 Ken Barthelmey has film titles under his belt like Godzilla 2, Mazerunner, and Fantastic Beasts: The Crimes of Grindelwald. His Instagram is full of some incredible creatures and characters.
He works mostly in Photoshop and Zbrush with a distinct style. And it's easy to see the passion he has for each of his creations when you glance over his work.
Charles Lee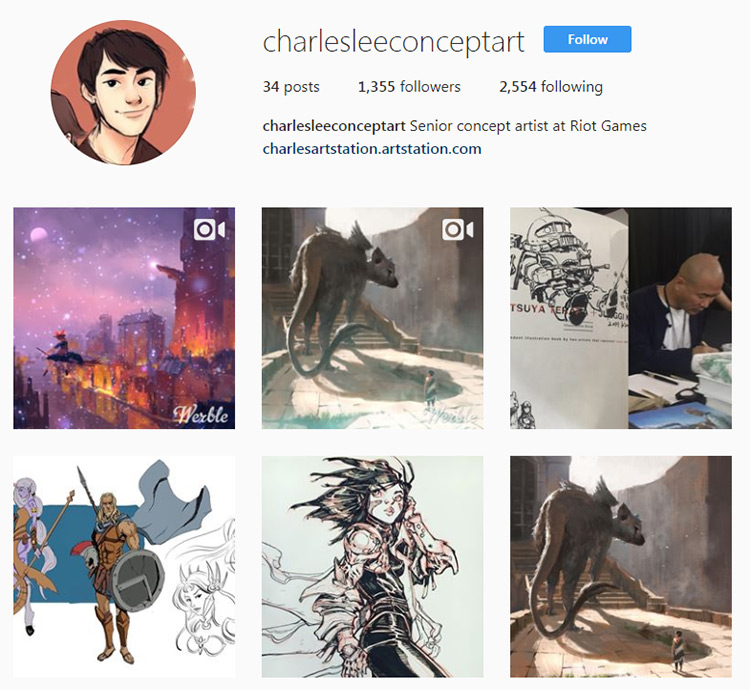 Charles Lee is a Senior Concept Artist at Riot Games, but the work on his Instagram account doesn't stop at League of Legends.
It's full of vibrant, beautifully painted scenes from his own imagined worlds, concept art for Blizzard's World of Warcraft cinematic trailers, and fan-art for games like "The Last Guardian".
Jonathan Guzi
Jonathan Guzi has a history at 2k Games working on titles such as Mafia III and the Bioshock series.
He specializes in environment concept art and each environment he creates holds its own mystery and sense of awe. He often shares his work from Bioshock and other games, but you can also find scenes he's painted from his travels around the world.
---
---