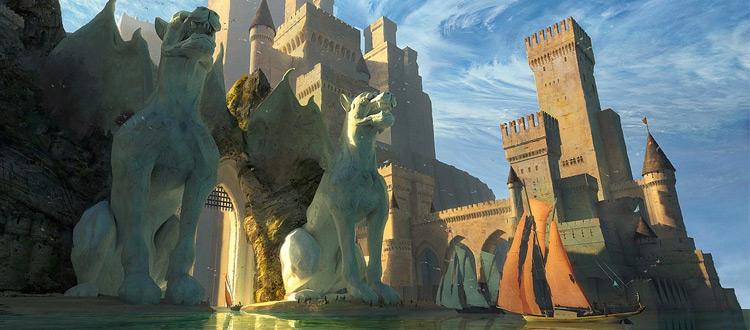 22 Landscape & Environment Artists To Follow On Instagram
While character design is a huge part of concept art, another big piece is imagining and rendering environments.
It's a whole different ball game than portraiture, figure work, or costume design, and it's incredibly valuable to every single video game or animation project.
There's nothing more relaxing than painting a soothing landscape scene. Seriously Bob Ross is onto something.
And there's always one truth behind artwork: looking at drawings and observing artists at work is one of the best ways to get inspiration for your pieces.
So to get you started with some environment ideas here are some of our favorite landscape artists from Instagram. Give them a follow and get inspired!
Jordan Grimmer
Jordan Grimmer is a London-based 2D concept artist who creates fanciful cityscapes and concept art landscapes in Photoshop.
He often posts simple digital sketches and finished renderings along with inspiration, snippets from his life, and even the occasional digital portrait from his practice work.
We published a detailed interview with Jordan if you want to learn more about his path into doing environment art for a living.
You can also check out his YouTube channel for speedpaints and process videos.
Jeremy Fenske
As a professional concept artist and art director at Singularity 6, Jeremy uses Photoshop to create beautiful landscapes from what could be this world, as well as fantastical scenes from other worlds.
He also posts character designs and sometimes original renderings of pop culture characters.
Jeremy has worked on projects like Elder Scrolls Online and Destiny 2, and his work shows a wide range of landscapes.
He also clearly has incredible skill at creating fantasy buildings and creatures. Oh and he's also especially good at drawing horses which is just a darn skill by itself.
To see more of his work check out his process tutorial on Gumroad.
Yog Joshi
Yog posts a lot of sketches and character designs but you'll also find many digital landscapes as well.
Their posts range from simplified backgrounds for games to intricate pieces with stunning brushwork and just the right balance of detail and ambiguity.
They also throw in some traditional oil-style digital landscape paintings so this is one heck of an Instagram account.
Thomas Roisland
Thomas is a professional concept artist for Animal Logic and creates all kinds of ethereal environments with striking lights and minimal color palettes.
He also posts a lot of hand-drawn ink sketches to his account.
In fact, it's worth giving him a follow for the ink drawings alone.
Check out his website for an even closer look at his work and what he's working on.
Weston Jones
Weston is an environment artist for Rooster Teeth where he creates stunning fantasy landscapes, cityscapes, and original characters.
He's amazing at using color to influence mood and tell a story.
He also posts some hand-drawn ink landscapes and doodles to his accounts. These are where his process really shines through as he works on smaller elements of his finished landscape paintings.
Make sure to check out his website and ArtStation page as well for even more landscapes and some interesting matte paintings.
Mohammad Qureshi
Mohammed is a background painter for Titmouse, a renowned game & animation studio.
He posts gorgeous landscapes that look like you could walk right into them.
His designs run the gamut from scenes you could find in your own backyard (you know, if you have a pretty backyard) to something you'd see on another planet.
He also posts a lot of studies both hand-drawn and in different digital mediums such as pastel and oil brushes.
Laura Price
Laura is an LA-based artist for Disney TV Animation.
Her whimsical portfolio boasts lots of cartoon character illustrations, but she's also amazing at creating colorful Disney-esque environments. Well, I mean she works at Disney so I'd imagine she's pretty darn good at it!
If you're more into cartooning than drawing hyper-realistic environments make sure to give her a follow.
We also published a really fun interview with Laura which covers her journey into social media and landing her job at Disney.
Aaron Loftis
Aaron is an artist at PopGames and has painted many animation backgrounds for Disney.
On Instagram he paints a lot of whimsical interiors, houses, landscapes, and everything in between, as well as characters to go with them.
He also includes some fun sketchbook studies and digital plein air paintings that show his skill at breaking down colors to minimize brush strokes, all while giving the illusion of light and depth.
He also has a podcast so be sure to check that out if you have time.
Colby Bryant
This illustrator creates minimal storybook-style environments and character illustrations.
He has a fun, retro style with gorgeous scratchy textures and he uses a lot of negative space to draw attention to certain areas of each piece.
Browsing Colby's IG account you'll find original designs as well as reinterpretations of scenes from movie franchises like Star Wars and Marvel, or classics like Cinderella's castle.
You can also find prints of some of his work on his main website.
David Harrington
David is an artist for Blizzard Entertainment and creates a lot of beautiful monochromatic environments, mostly exteriors or fantasy/sci-fi structures.
He also includes stylized nature and forest scenes in his IG account.
Typically his work uses very soft brushstrokes that give his paintings a misty, mysterious mood.
He also makes a lot of 3D models of buildings and objects, so he's got some wide-ranging skills in the art space.
Rosie M.
Rosie paints landscapes with very bold, chunky brush strokes and specifically creates more realistic landscapes, but also still very cartoony.
Even though her strokes are simple, she has a great command of lighting and expresses it with minimal effort(or so it seems).
It's especially interesting to see how she renders foliage and woodsy environments with a pointillism-esque technique.
If you wanna learn more have a peek at her portfolio site.
Nick Bear
Nick paints backgrounds for Marvel, Warner Brothers, and even worked on Rick and Morty for a while. No big deal or anything.
As you'd expect, Nick has an amazing range and a very flexible style. He's painting everything from illustrative storybook scenes to highly detailed nature settings.
He even gives you a peek into his sketchbook with simple brush pen doodles.
@nik_jyp
NIK, an environment artist based in Singapore, creates highly detailed, colorful, almost Thomas Kinkade-style environment paintings. These mostly focus on peaceful villages, modern city scenes, and scenes inspired by traditional Asian architecture along with the occasional watercolor sketch.
He's especially amazing at rendering flowers and foliage.
His backgrounds make you want to take a vacation inside them.
Bonnie Branson
Bonnie is an LA artist who paints stunning digital landscapes in a traditional oil or acrylic style as well as backgrounds for animated films.
She uses color and lighting beautifully in every single piece.
Click over to her Instagram and get a load of those clouds and sunsets!
Her style ranges from bold brushstrokes to soft easy-going environments. If you want to get better at lighting your environments, check out her work!
She has an online portfolio website as well so make sure to take a look!
Drake Brodahl
Drake is a children's book illustrator and developmental art director at Disney TV Animation.
He paints gorgeous character and environment illustrations with a fun, scratchy texture.
He also posts other artists' work from his collabs which are just stunning. Some of his illustrations might actually look familiar!
Dao Nguyen
Dao creates stunningly realistic cityscapes and forest scenes, along with the occasional stylized portrait with both modern and natural settings.
Her illustrations have so much depth with an excellent use of lighting and detail.
She specializes in anime backgrounds and her paintings have lots of detail without overloading you too much. That's exactly what you'd be looking for in great anime artwork.
Luke Berliner
Luke is a concept artist in Santa Monica and paints beautiful landscapes with Photoshop and a Wacom tablet.
His work varies between dreary-looking scenes with a very dark, limited palette to bright and punchy environments.
He also includes gorgeous ink sketches from a Moleskine of his preliminary concepts and everyday life.
If you're in Southern California you can also attend his live workshops! Check out this page for more info.
Victor Ishihara
Unlike most of the other artists on this list, Victor mostly works with traditional paint, paper, and brushes. Though he also does digital work as well.
This guy knows his way around a set of gouache.
His small yet highly detailed paintings are absolutely stunning and may inspire you to pick up a paintbrush again if you've been working digitally for a while.
Douglas Quan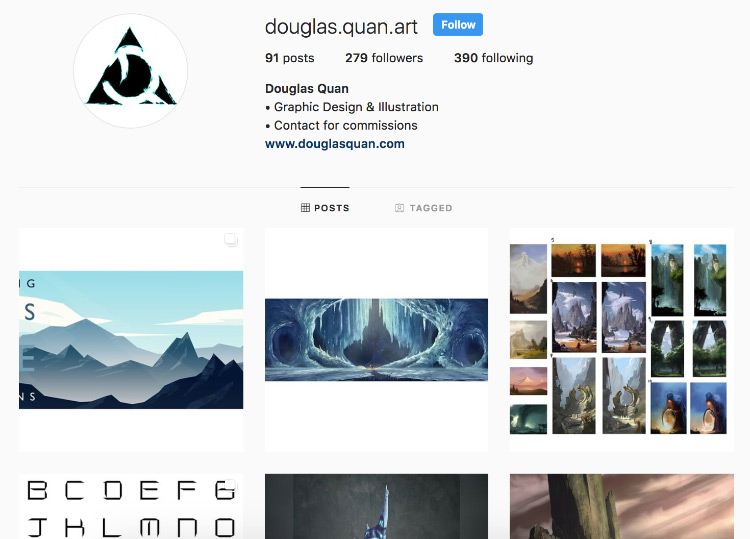 Douglas creates otherworldly fantasy landscape paintings that melt off the screen.
Most of them look like you could find them on Earth…almost, if it weren't for a little sci-fi detailing.
A lot of his pieces depict gravity-defying features like floating mountains and crazy rock formations.
He's especially good at rendering clouds and it's incredible to dive into his use of color with each piece.
Roman Likholob
Roman digitally paints landscapes and exteriors in a traditional, oil paint-ish style.
He also shares a lot of quick digital painting studies that break down colors, lighting, and planes into their most simple components.
Which is excellent practice for learning how to build up a piece.
If you want more ideas on breaking up forms into planes or drawing unique buildings he's a great one to follow.
Amber Blade Jones
As an artist for Warner Brothers, Amber's account is a smattering of everything. But it's all awesome!
This IG page really showcases her skill and range with so many styles and subjects.
You'll find interiors and outdoor environments made in Procreate, digital character designs, and charcoal portraits and some figure studies.
Amber has worked for Cartoon Network, Titmouse, and Nickelodeon, so you'll see a lot of that broad influence in her work.
Andy Collins
Andy's artwork is fun and unexpected because he paints exteriors of everyday buildings, castles, ruins… and then throws in a starship every so often.
You can also find some black and white inked studies on his page to see how he develops his concepts.
While structures are definitely his focus and his sweet spot, he has incredible range so make sure to give him a follow to see more.
Check out all the artists on this list and see who inspires you the most.
By studying other artists you learn to develop your own style and build up a natural library of ideas. This is definitely true of environment work where every little detail makes a huge difference.
---
---