Top Famous Professional Concept Artists
Inspiration
Disclosure: This post may contain affiliate links. That means if you buy something we get a small commission at no extra cost to you(learn more)
The growing field of concept art is full of talented individuals from all over the world.
Great concept artists have paved a new era of digital art to lead creative teams and inspire the next generation of artists.
In this post I'll cover 25+ of the best professional concept artists who deserve the spotlight on their work. I know I'm leaving out many great artists from this list and I apologize in advance!
There's so much talent out there and it's hard to keep track. But these artists are some of the best and if you're an aspiring concept artist then these names should be on your radar.
Shaddy Safadi
Digital game artist Shaddy Safadi has worked on many games including Uncharted 2 for Naughty Dog. Right now he works as a freelancer for hire with intermittent studio gigs.
The most unique aspect of his work is the variety. Shaddy can design detailed concept art for characters, environments, or anything similar. But he can also do stylized art & illustrations that stand out on their own.
His career spans almost 20 years and his work can be found in many popular games. A great concept artist with a very broad skillset.
Feng Zhu
Perhaps the most famous concept artist turned teacher is Feng Zhu. He got his start back in the 1990s working on classic PC & PS1 games slowly moved through the ranks.
Now Feng runs his own concept art school called the FZD School of Design. It's a one-year program specifically focused on concept art and illustration for movies/video games. We got an exclusive interview with an FZD alum if you wanna learn more about the school.
But Feng's teaching style mimics his art style: rigorous and technically detailed. The work on his portfolio site is truly incredible featuring environment paintings, characters, creatures, and even some 3D work.
And he runs his own YouTube channel with mini-lectures and promos for his school. But all these videos are free and they have great advice for aspiring concept artists.
Noah Bradley
The founder of Art Camp and world-renowned concept artist Noah Bradley should be on everyone's radar. He built a name for himself online by sharing his work across many communities.
Over time his paintings have gained traction on sites like Reddit where Noah did multiple AMAs where he'd answer questions for gaming fans & other aspiring artists.
These days Noah doesn't post much on social media so you won't find many new paintings. But you can find work on his ArtStation page along with a brief bio and links to his site. And if you're an aspiring concept artist then look into Noah's Art Camp. It's a self-guided series and it's definitely not for everyone but it can help you get one step closer to a concept art career.
Cam Sykes
Digital artist Cam Skyes is an art director & digital artist with skills in character design. His work can vary from piece to piece with a large variety of exaggerations and styles.
He's currently based out of Sydney working as a freelance concept artist & illustrator. Plus he runs a great YouTube channel with portrait sketchings, digital paintings, and tutorials for aspiring professional artists.
Cam's work is phenomenal and the variety leaves a lot of inspiration for other artists to pick up.
Jason Chan
Jason Chan works as a senior concept artist at Riot Games. You can see examples of his work right on his portfolio site along with his ArtStation account.
He does a lot of character designs both for games and for illustration work. Jason has also taught private lessons and lectured about concept art at many international conferences. His skills are widely recognized in the industry and the work speaks for itself.
Plus Jason has years of experience as a freelancer helping with projects from over 100 different companies. Very prolific artist with some incredible work.
Tyler Edlin
You may know about Tyler Edlin from his Gumroad page where he shares video tutorials for aspiring artists. But his real work is so great with tons of examples on his website.
Tyler offers both illustration and concept art covering many different styles from fantasy to sci-fi. Many of his digital courses touch on these topics and they're cheap introductions for beginners.
And you can even study with Tyler if you're open to a mentorship or a portfolio critique. He offers an 8-week personal training session working directly with students to help improve their artwork.
He's an awesome guy and such a valuable asset to the entertainment industry.
James Paick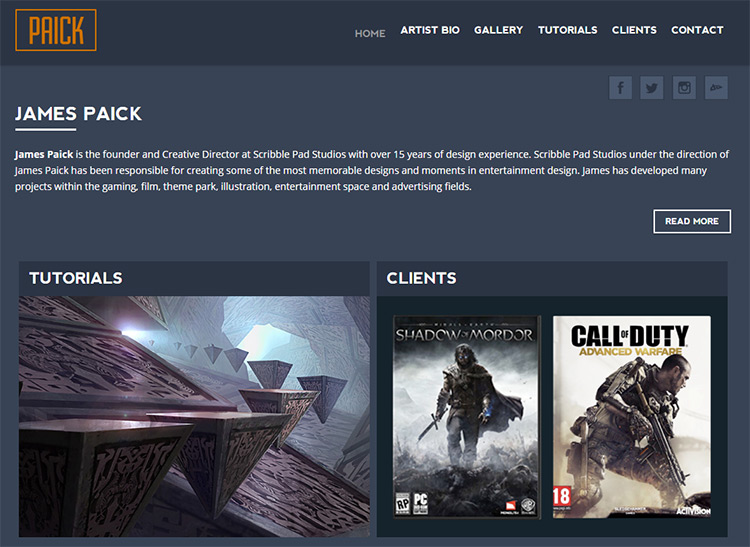 Digital concept artist James Paick has quite the wrap sheet of entertainment gigs. He has worked for major studios like Naughty Dog, EA, Sony, Activision, and a bunch of other popular brands.
His artwork is amazing and currently he works freelancing for games from professional studios to smaller indie outfits. James has almost two decades of experience designing assets for entertainment.
James is also a well-known teacher involved with artist-driven institutions like Art Center, Concept Design Academy, and CGMA. His Gumroad stuff is also great and worth looking into if you're an aspiring concept artist.
John J. Park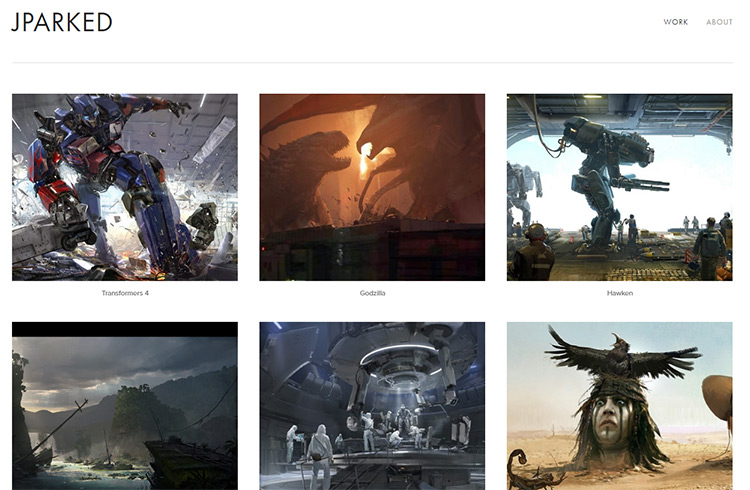 Everything about John's work screams professionalism. He's worked on lead motion pictures and major video game projects including Transformers 4, Godzilla, Halo, and more recently Uncharted 4.
John can make digital 2D paintings along with more CG-related 3D animations and renderings. His skills include most rendering software and he definitely knows concept art.
The best place to find his work is on ArtStation including a lengthy resume of clients and prior concept art gigs.
Maciej Kuciara
Los Angeles concept artist Maciej Kuciara has years of experience in the entertainment industry. His work is mostly based in film with lots of movie credits on IMDb.
Maciej's work varies between traditional concept art and more detailed visual development art. This leads to a huge variety of styles and designs that work well for action movies, horror films, and animated films.
And he's one of the main instructors/founders of Learn Squared, and online teaching resource for artists. Right now he's teaching two courses on environment painting along with futuristic character design.
His attention to detail should be revered and it's no surprise why he keeps getting work.
Victor Mosquera
Victor currently works at Ubisoft Toronto but has years of experience in the digital art/concept art world. You can find work samples on his website and various drawings/paintings on his ArtStation.
A lot of his work seems to veer into strange illustrations. He definitely has a style that feels unique, but he can command strict attention to detail when needed. The best artists should be able to alternate between work they love and more detailed professional concept art.
His work can be seen in many Ubisoft games along with other smaller studio games. To learn more and stay up to date you can follow him on Twitter @victormosquerar.
Jordan Grimmer
We got an interview with Jordan Grimmer sharing his journey into concept art + advice for aspiring artists. His work is truly stellar and it's amazing to see so much progress in his work over the years.
He keeps a minimalist portfolio site that does feature a lot of his paintings. Jordan primarily does environment art with a heavy focus on fundamentals like perspective and lighting. His use of lights & shadows is some of the best work I've ever seen.
If you're an aspiring environment artist then you have to get familiar with Jordan's work. He posts a lot on ArtStation and every piece is awe-inspiring.
Darek Zabrocki
Darek Zabrocki is a Polish concept artist who has been drawing since the age of 3. His portfolio site is full of amazing work from top industry clients like FOX, Sega, Sony, and DreamWorks.
Darek has a small Gumroad page of a few tutorials teaching concept art & illustration work. But he's also known for speedpaints starting from a blank page to a raw painting in a few hours.
His designs are so accurate and true to story, and he can delve into any subject from ancient Greece to futuristic sci-fi battleships. Check out his ArtStation where you can find more info and social media links.
Gilles Beloeil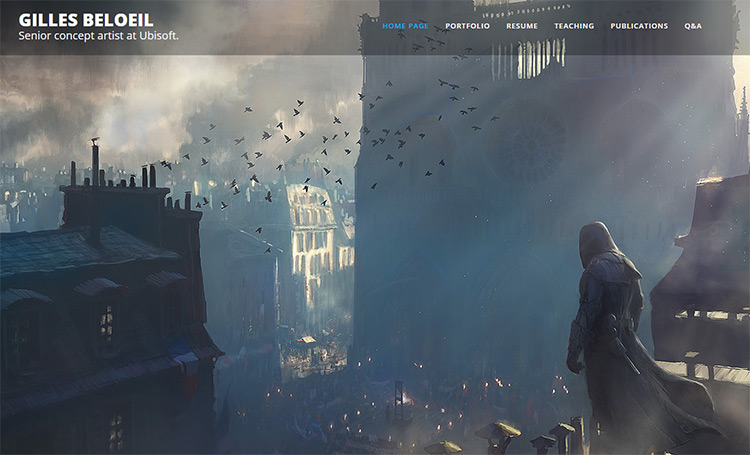 Ubisoft's senior concept artist Gilles Beloeil is one talented guy. He's done work on many of the Assassin's Creed games including characters and environments.
You can find some nice stuff on his website but there's a lot more work on his ArtStation profile. But even with his sr. artist position at Ubisoft he still makes time to run courses at CGMA.
Right now he runs an Environment Design II course teaching the more intermediate-to-advanced techniques of digitally painting environments.
Incredibly talented artist and definitely a name you should know.
Dan Luvisi
Dan Luvisi does all sorts of digital art for the entertainment industry(including comic books). He's done work with FOX, Universal, and DC Comics among many other large brands.
His style seems to blend all over the place like a chameleon. Dan's skills allow him to jump into any role from basic illustration to more complex visual development. His career started in Los Angeles designing costumes for film and now he works as a freelancer doing illustration & concept art for many different projects.
To learn more and see other work samples check out his ArtStation page.
Neil Blevins
If you're a big sci-fi fanatic then you'll adore the work of Neil Blevins. His work specializes in aliens and creatures for entertainment art.
He can do everything from 2D concept art to 3D rendering and character creation. Neil even writes dozens of art tutorials aimed towards aspiring concept artists who need a place to start learning.
There is plenty of work on his website but it's easier to browse ArtStation if you're looking for specific examples.
Tuomas Korpi
Tuomas Korpi is a Finnish concept artist & illustrator with over a decade of experience. He does a lot of detailed concept art but also has a unique stylized tone to his work.
Take a look at his ArtStation to see what I mean. You'll find plenty of highly-rendered concept pieces along with fun illustrations. But his attention to detail is astounding and some works are seriously incredible.
Whether you're chasing concept art or visual development you can learn a lot from Korpi's work.
Dave Melvin
So-called "niche" illustrator & concept artist Dave Melvin has made a name for himself with unique artwork that still delivers quality designs.
Concept art is all about design and you can see this in Dave's work. He breaks up pieces on ArtStation into albums like fan art. But while some pieces follow a consistent theme you can always see unique patterns in his paintings.
Dave currently works as a freelancer so he should be open to projects if you're looking for a skilled artist.
Cedric Peyravernay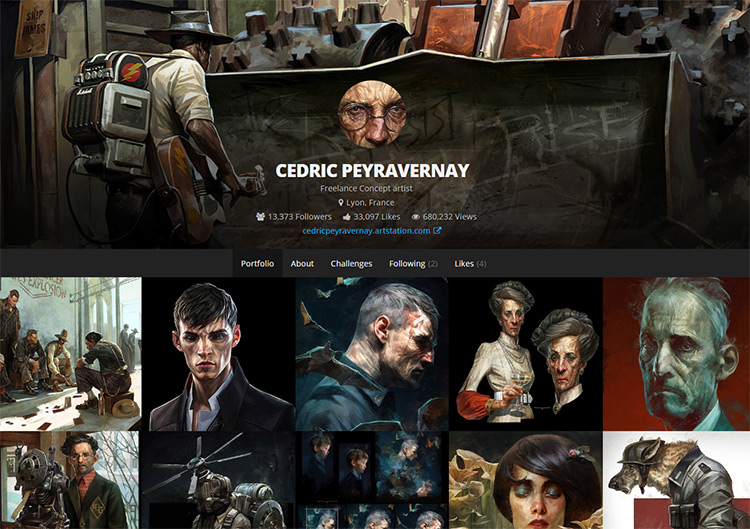 French concept artist Cedric Peyravernay uses intense realism in his work for characters and environments. Cedric focuses on characters and you can see tons of examples in his ArtStation.
His style blends the realistic approach with more sci-fi and alternative history artwork like steampunk. His paintings are a work of their own regardless of their use in publications or entertainment.
Granted his style may not appeal to more traditional concept artists looking towards the game industry. But his attention to detail is admirable and it's something all concept artists should strive towards.
Karl Thiart
Karl Thiart is a concept artist from New Zealand with a tremendous body of work. His ArtStation page has most of the examples but you can find more info on his personal site.
Everything he does really places a focus on the concept and the design. Many sample pieces include sketches and alternate angles to help programmers create these pieces into a virtual world(either movies or games).
His experience does leak into 3D work but most concepts appear to be 2D paintings. His style is true to the nature of concept art and he's an artist worth noting in the field.
Natasha Tan
The insanely talented Natasha Tan doesn't have much of a web presence. She's a concept artist at Ubisoft with an education from FZD School of Design. The work on her portfolio site is full of environment paintings with realistic lighting and exquisite color choices.
Natasha also has a Tumblr blog for sharing personal artwork and sketches with fans. One interesting point on her Tumblr is that she posts both digital and traditional artwork.
She does not share much about her work at Ubisoft but on her LinkedIn she mentions that she's a graduate of FZD. Judging from her environment paintings I'd say her education was clearly worth the time & money.
Jorge Jacinto
Illustrator and concept artist Jorge Jacinto works in both video games and movies. He currently resides in Portugal but has worked with companies all over the globe.
Jorge considers himself an illustrator but also does a lot of visual development work. Some of his paintings have been featured in ImagineFX and he publishes timelapse videos of his digital paintings on YouTube.
He's such a talented concept artist and it seems like every piece of work is truly a masterpiece. You can see tons of examples on his ArtStation page or follow his updates live on Twitter @jjcanvas.
Claire Hummel
Claire Hummel currently works as an art director and production designer for HBO. Her career spans across the US from the east coast to the west coast.
She loves dinosaurs and cowboys, both of which feature prominently in her artwork. Claire has done work for VR and Xbox games along with many productions for movies/TV.
You can find plenty of art galleries on her website along with other pieces on ArtStation.
Pablo Carpio
Pablo Carpio has some of the greatest concept artwork for modern gaming. He's based out of Madrid and has a deep passion for movies.
Most of Pablo's work features deep perspective shots either above or below something(characters, creatures, whatever). His perspective is top notch and you can tell he's had fine arts training. He's done concept art work for Ubisoft and some of his stuff has even been featured in ImagineFX magazine.
To see more great work samples take a look over his personal site.
Grzegorz Rutkowski
The brilliant Polish concept artist Grzegorz Rutkowski has a long history of digital art & digital painting. You can see a bunch of great work on DeviantArt alongside his ArtStation.
His ArtStation alone has 14k followers and it seems to keep growing every day. Once you take a peek at his work you'll see why.
Grzegorz has a knack for realistic paintings that also help to sell characters, creatures, and environments. This skillset is perfect for the world of concept art where he earns a living working as a freelancer.
Johannes Helgeson
The last artist on my list is certainly not least considering his incredibly stylized artwork. Johannes Helgeson is a Swedish-born illustrator and concept artist.
He currently works at Hibernum Creations but has been doing concept art & 3D rendering for almost a decade. Most of his artwork is for gaming but his style could blend well into animation too.
Johannes' style is one of a kind and it helps him stand out from the sea of other concept artists.
This is a huge list but I always feel bad leaving out anyone. Just know that there are tons of other incredibly talented concept artists out there!
But I hope this post offers enough names to help you dive into the deep world of concept art and start finding artists you love.
---