Free Maya Rigs For 2023: The Ultimate Collection
Resources
3D
Disclosure: This post may contain affiliate links. That means if you buy something we get a small commission at no extra cost to you(learn more)
The best way to start animating is through practice.
And if you're brand new then using a pre-built rig is the way to go. While there are tutorials on how to rig for yourself, it will take you several months to get moving with the process. Learning animation is already a huge undertaking. Learning it with a substandard rig will make the whole experience unbearable.
To save you some time we've compiled free quality rigs specially-made for anyone using Maya.
These range from simple body mechanics rigs to advanced facial rigs. The list also covers various biped, quadruped, and other creature models. Most of these rigs are stylized but the same principle applies to realistic animations.
Take note that while the rigs are free, this doesn't mean you can freely use them in your short film. Be sure to check each rig's license to make sure you're not breaching any guidelines on commercial use.
Ultimate Rigs Pack
This pack is called "ultimate" for a reason.
It contains every possible rig that will let you practice basic and advanced body mechanics. From a simple squash and stretch ball to the tricky walk cycle of the biped bony rig, it's all here.
As the rigs are aimed for body mechanics you won't find any facial controls.
This is intentional so you can focus solely on body movement in your practice.
In addition, most of these rigs have various customizations. For instance the ball rig has different selections such as a football or bowling ball.
Plenty to choose from here and a great set for practicing any kind of 3D animation.
Flour Sack
Weight is one of the hardest illusions to achieve.
It requires an appropriate mix of timing and spacing to communicate the motion properly. Needless to say, animating weight will make your rig so much more lifelike.
Classic Disney animators use the flour animation exercises to test their junior animators on how well they understand weight.
With this flour sack rigged by Joe Daniels you can do just that: animate solely on weight.
The upper part of the sack will have little to no weight and the bottom section will have most of the weight. This resource offers some great exercises for practicing believable motion.
Note this probably won't be super useful on a real-world film(how many films have moving flour sacks?)
However the point of this rig is to help you understand how to bring motion into any inanimate object. The flour sack is simply a common practice object.
Juicebox Rig
Here's a juice box rig, yet another inanimate object created by Joe Daniels.
The unique thing here is the extra appendage – the straw.
This serves as a challenge on how the animator can bring personality to the rig. This can be used as a head when nodding or an arm when waving.
You can see a juice box animation walkthrough here if you want to practice it yourself.
In addition, you can also check several rigs from Joe Daniels on his Gumroad page. The body mechanics pack is a personal favorite of mine.
Anthro Tiger
Anthro is a bipedal rig that features switchable IK and FK arms, convenient breath control and a dynamic tail option.
You'll also get to animate padding props available in the pelvis control.
For the dynamic tail you need to enable it by switching the DYN FK attribute from 10 to 0 under the COG control. If you're comfortable with Maya this shouldn't be too tough, although there are tutorials online to help.
This character is modeled and textured properly which should give your project a nice "polished" vibe.
Also even though this is a tiger, it is not meant for quadruped locomotion. The rig is ideal for those going for heavy action calisthenics such as Kung Fu Panda's Tigress.
Tre Vital, the creator, released a rig demo video which is definitely worth a watch.
Wraith
Here we've got a typical wraith designed as an unconventional "biped" rig.
His upper body resembles regular arms and torso but his lower body only constitutes central controls. This gives the impression that the rig travels by floating mid-air, like all ghosts should.
The rig comes with textures by default. It's also relatively light which will most likely give you real-time feedback.
The shoulder armors can easily be animated separately with its dedicated controls. Normally you'd have a switchable FK and IK spine but this rig has simultaneous hybrid controls.
This gives you greater flexibility to work this into any scene. The wraith also offers several options for its fingers. You can either animate them by viewport controls or by attribute.
Argonian
Agorian is a villain character from the hit Insomiac game Rachet and Clank.
The rig features an asymmetrical design with a left hand acting as claws and a right hand resembling a mace weapon.
The mace control offers a set-driven attribute of automatic piston mechanics when the mace is extended.
One cool feature: this rig delivers decent deformation even though there are no corrective blend shapes. This is due to the meticulous mesh topology.
Like the other Tre Vital rigs, it does not have any dedicated facial controls but has some standard eyes and jaw controls. It also features an IK hair and tail.
You can see the character rig at play in this guide.
Jaemin Dragon
Ever wondered how to animate a winged creature like in Game of Thrones?
Well now you can with this super cool dragon rig. Made with the Advance Skeleton auto rigger, this comes in several IK and FK switches which includes a spine, wings, bones and even a neck.
Shipped with a highly detailed texture and plenty of moving parts, this is sure to stand out in your animation or video game.
Needless to say this dragon rig is the most complicated creature in this list. The dragon represents a challenge not only because it has several appendages (i.e. claws, overhanging scales, tails).
But there is no real-life reference available. As such, most riggers look after animals with similar mechanics such as bats.
You can see the rig demonstration here or you can see this in action in the Forsaken Warriors short film.
Conan Character
Conan is a warrior biped character that comes with standard controls and dedicated facial controls.
The downloaded file also comes with a separate gigantic axe prop file, which can easily be imported as a reference when animated.
Pretty straightforward rig and you know exactly what you're getting at a glance.
Bunny Eater
Bunny eater is a reptilian quadruped that can be likened to How to Train Your Dragon's Toothless, minus the wings.
It comes with textures but it looks rudimentary. Luckily, the model is properly UVed making it easier to texture for yourself.
Rigged with Advanced Skeleton auto-rigger, this features facial controls with primary controls for the general look and secondary controls for expressions in the eyes, eyelids, lips.
It comes with the IK and FK switch limbs and spine. An overall fun rig to play with.
Walking Egg
Here's a very unique quadruped robot that can fold its legs together forming an egg.
It has a useful single attribute to fold its leg which includes a locking attribute. It also has a single attribute to morph its screen eyes to ready-made guns.
You can see a demonstration on YouTube which might give you some ideas for animating.
Cartoon Ox
Want to practice with a character from Blue Sky's Ferdinand?
This water buffalo character is perfect for any such exercise.
This quadruped ox comes with dedicated facial controls and standard IK and FK switch for the limbs. The final rig looks flawless and it's really a fun way to dive into 3D animation, assuming you have the right Maya learning materials.
Cartoon Chameleon
Here's a neat little chameleon character that's sure to please.
This is a quadruped rig that contains the basic body and facial controls you might expect.
The rig is almost a replica of Tangled's Pascal which makes it even more fun for Disney fans.
Unlike some of Truong's other rigs, this one has facial controls that are not blendshaped. This means you might need to move more controls than usual.
But offers IK and FK switch limbs and stretchy joints. It also has its own hip swinger.
Malcolm
Malcolm is a production-proven animation rig from AnimSchool, an online animation school with teachers hailing from DreamWorks, Disney, and Pixar.
With a completely revamped second version of the rig, you now have multiple attire changes ranging from a farmer to a construction worker. All changes can be done through its own dedicated body and facial picker.
Malcolm is highly optimized so that even while it's packed with the essential cartoony features, it still runs at real-time. You can check a comprehensive walkthrough of the rig in this video which is surprisingly comprehensive.
Squirrels
These adorable squirrels are just what you'd expect with oversized teeth and a soft belly.
You can aptly practice overlapping actions and follow through principles with this flexible tail. The rig has built-in squash and stretch that allows for strong deformations by default.
The rig is perfect for those wanting to move up from the bouncing ball exercise and practice animating with a more cartoony look.
Along with a few other free rigs in this list, the Squirrels was made to supplement Animation Mentor's classes. They offer many resources for free which is awesome for anyone studying 3D work.
Animation Mentor also released a series of tutorials showing how to use the rig as demonstrated by a professional animator. You can check the Youtube playlist here.
Haunted Armor
If you want a bit of challenge you can check this unique character rig.
Basically this feels like a cool prop turned character rig.
It lets you practice animating a floating object that is free of any typical weight transfer.
The rig is fundamentally basic so it only contains FK controls but will surely be a fun and challenging resource to build with. And it can make a fun idea for a new Halloween project.
Homer Simpson
Homer Simpson needs no introduction.
He is conclusively an American icon and a milestone for animated television. While the show is animated in 2D with cels, this 3D rendition of a well-known TV dad is certainly a fun play thing.
Homer is lightweight and super easy to work with, even for beginners. However it doesn't necessarily skimp out on essential features for a cartoony character.
It has space switches along with stretchy and bendy joints. It also features squash and stretch for both the head and torso.
Sporting a dedicated facial control, you could use this to make some goofy videos in no time. You can also check an author's rig demonstration on YouTube.
Nico
Nico is a mythical quadruped rig aimed at intermediate-to-advanced Maya users.
It has ears like that of a dragon and a mouth resembling a beak. It has all the standard controls you would expect in a quadruped along with a facial shape rig.
The facial rig is quite sensitive so you might want to use only smaller values there. In addition, it has a detailed hybrid and IK and FK spine for flexible posing.
Wolfdog
Is it a wolf, or a dog?
Well it's really a well-modeled quadruped rig that is guaranteed to look awesome in your project.
The legs are packed with several pivot controls that function just as you'd expect. It has dedicated facial controls with tweaker controls for advance manipulation. The facial rigs are easy enough to manipulate and hit several expressions too.
If you're new to animating quadrupeds this will be a challenge. Yet by the end I guarantee you'll learn a heck of a lot about animal locomotion.
Lily & Snout
The Lily and Snout rig is a fruitful collaboration between Artella and Sketchfab.
The aim is to showcase animation in a VR platform. Lily is a cute little girl accompanied by her adorable oversized pet dragon. The rigs come with only IK limbs but with stretchy features. They are most likely constrained with joint counts.
As this was made in VR, the rig only has rudimentary facial controls. You can still do plenty with this since it's designed as a professional-level resource. You can also see this rig in action in the Sketchfab site.
If you're interested in this project you can check this dedicated blog post offering a cool behind-the-scenes look at the production process.
Bonnie Legacy Rig
Bonnie has been a staple character for 11 second club contests. Not only does it come with decent facial controls, it is one of the best free rigs online.
It has its own body and facial picker controls for easy manipulation. It also has optional hair dynamics to automate overlap and follow through with your own hair animation.
In 2018, Josh Sobel revised Bonnie with improved controls and deformation. Definitely worth downloading a copy if you'd use this in your practice routine.
Judy Hopps
Based on the Academy Award winning film Zootopia, Judy Hopps is an excellent rig to practice a biped character with animal behaviors.
The rig features a seamless FK and IK switch, mirroring options, and a movable pivot controller.
Judy has a state of the art facial controller where you don't actually select any floating controllers, but rather the controllers directly on the face. Moreover it features dynamics for jiggly cheeks and micro facial controls to hit various expressions.
The rig can be mapped into a HumanIK system too. This means you can plug in motion capture data easily.
If you prefer working in Blender you can also download this version as well.
Flash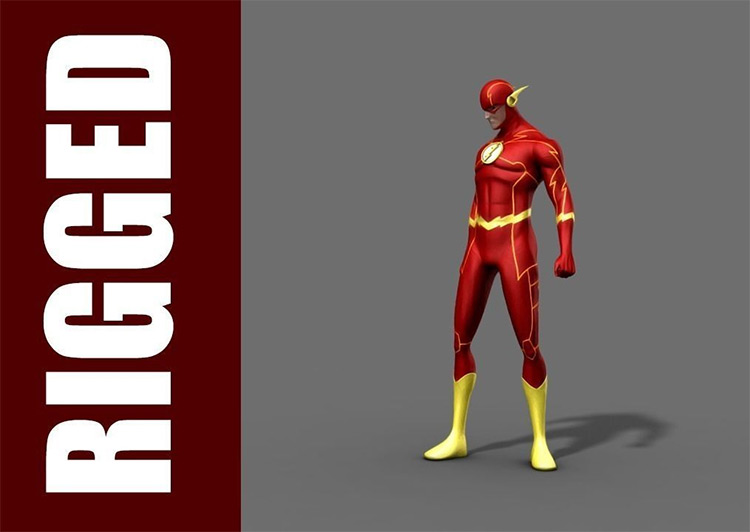 Superheroes are so fun to create and practice with. They let us believe what we can be and tell awesome stories.
But you know what's even greater? A free superhero rig!
This Flash is a fully-functional rig that offers advanced controls such as heat vision, breathe controls, and a nifty costume glow effect.
Like other stylized rigs, it comes with an IK/FK switch with an option for squash and stretch. It also comes with textures ready for rendering.
And if you're looking for other characters by the same rigger you can check his CGTrader profile.
Low Poly Warriors
These low poly ancient warriors are optimized for games but can really be used for anything.
They come with basic controls and detailed textures that sport gold & iron carved decorations. They're perfect if you wanna build some crowds or populate your battle scenes.
These rigs are actually part of a larger pack so if you want even more assets then check out the whole set right here.
Ray Character
Ray was made to complement CGTarian's online animation courses. Thankfully the team published this rig and made it available for everyone.
It's a production-ready rig that is comparable to anything you might find in a detailed 3D animation.
Know why? Because this was made from several artists with experience at DreamWorks Animation!
This has well-deformed facial controls that offer various secondary controls for eyebrows, eyelids, and lips. The eyes have automated eyelid rotation too.
Lips have specialized attributes such as zipping and the head has a hybrid translation and rotation mechanism.
Of course, it comes with the usual cartoony features such as stretchy joints. But unlike the other rigs, this one offers a pinning option. Squash and stretch are available not only on the spine but also on the head.
The obvious caveat here is that it's a heavy rig. So if you are experiencing less than real time response while working, that's totally normal!
Mery Project
Mery has been around for a while but it's still a Maya favorite.
This is an advanced biped rig that comes out-of-the-box with dedicated facial controls, swappable attire, stretchy joints, and a 360 degree no-flip arm setup.
A common pitfall for beginners using Mery is the facial picker controls. So be sure to check out the documentation on the website before you dive into that area(assuming you're unfamiliar).
For those experiencing gimbal lock, you can freely change the rotation order on each control. Bendy controls are hidden by default to prevent clutter but you can add stretchy joints with ease.
Absolutely a fantastic rig and perfect for anyone practicing realistic human animation.
---
---