Best GIMP Brushes For Drawing & Painting (All Free)
This sister software to Photoshop is a great option for digital art & design. With GIMP you have access to every tool from the Adobe library without the price tag.
But the default GIMP brushes leave a lot to be desired.
If you do any digital painting or digital art with GIMP then you'll be looking for some killer brushes to fill the gap.
This post should have everything you need with a laundry list of free brush packs to choose from.
Also note that you can import .abr files right into GIMP which means many Photoshop brushes can work here too. It's not a perfect program but it is worth trying if you're making the move from Adobe to GIMP.
K04sk Brushes
If you do any kind of concept art, illustration work, or digital painting in GIMP, you'll wanna have a look at these brushes.
The pack is totally free to download and includes quite a few valuables pieces. They can all work wonders for your digital paintings and the author released these brushes from their own personal set.
Actually these brushes were converted from a PS set into GIMP. It takes a little bit of effort but the end result can be phenomenal(like you see here!)
I would highly recommend this set for any concept artist or any digital artist practicing concept art, character design, or any similar form of entertainment art.
Granted these won't make you a talented artist but they will help you get there with practice.
Digital Oil Brushes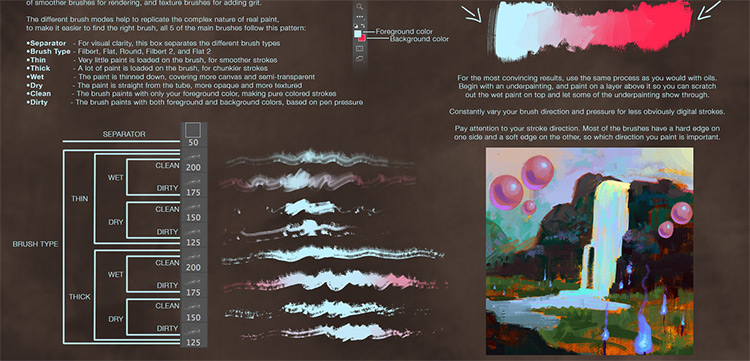 I cannot say enough good things about this oil brush set.
It is technically designed for Photoshop but these babies work flawlessly with GIMP. Just make sure to run the newest version of the software to avoid import problems.
Anyone who paints frequently and wants to replicate the feel of a real paintbrush will adore this brush pack. It's got a lot to pick from including wet/dry brushes, thick and thin designs, as well as some dirty and clean paint brushes.
So much here to love, especially so if you're a natural painter.
With a total of 13 brushes all 100% free you'll never find yourself running out of ideas.
Texture Set
Custom texture brushes are wildly popular in digital art and graphic design. They serve so many purposes and a good variety gives you plenty to work with.
That's exactly what you'll find in this texture set. It is fairly small with only 5 brushes, however they're all very unique and super easy to setup.
If you do any kind of graphic design alongside art then this is worth downloading.
Textured brushes can be so versatile with the right settings, opacity, and blend modes.
Overall a great set of textures with practical use for pretty much anything.
Artistic Brushes
Traditional mediums like watercolors are tough to match in a digital program.
But with the right brushes you can get pretty darn close. This pack was designed exclusively from watercolor brushes and made to match perfectly with GIMP.
The author Chrisdesign made each brush using a dry paintbrush and real watercolors. The final result feels very accurate so there's a lot of brush work you can get out of this pack.
Still, this may not suit all of your digital artwork so it's worth rotating around other brushes to see what you think.
20 Count Brush Set
Need some variety with your art? Well have a look at this set of 20 different brush styles all made for GIMP.
You can pick from jagged designs to more surreal-ish brushes and some scatter brushes too.
Most of these would not be used just for painting. They offer a variety of textures and would be best used for the finishing touches on a piece.
In fact, the author specifically says these are best used for experimental painting.
Give em a shot if you like the styles. Or pass right onto the next set if you need even more variety.
101 GIMP Brushes
Totaling over 100 brushes I have to commend this GIMP brush set for its incredible variety and volume.
Unfortunately the main DeviantArt page does not have a large sample and certainly doesn't do this justice. You will find a ton of brushes in here with so many different brush styles, textures, and patterns.
Don't let the simple DA preview image fool you. This is a brush pack that every GIMP user should have.
It'll take some adjusting and it'll take even more time going through everything to find what you like. But it's well worth the time since these are brushes you can use for the long haul.
AaronGriffinArt Brush Pack
Here's another varied brush set with quite a bit of style. I would argue this pack is much more artist-friendly and there's so much in here it'll make your head spin.
Check out the main brush page which includes a free download link. The file comes as an .abr file and it's pretty large(about 20MB). It may take a little bit to finish downloading but it's very easy to import.
These brushes come as a personal pack from the artist and they seem to be directly from Photoshop.
However they'll work just as well inside GIMP with all the same settings in-tact.
Alex Ruiz Brushes
I couldn't find a ton of brush packs on Gumroad but I did find this free set released by artist Alex Ruiz.
The pack was designed for Photoshop CS3(and above) however you can use it with GIMP no problem.
There's actually a good variety in here with a mix of textured pen/ink/airbrush style markings, along with more complex pattern brushes.
Artists don't have as much of a need for pattern brushes but they can still be really useful in the right context. Still highly recommend this set for any & all purposes.
Hair Pack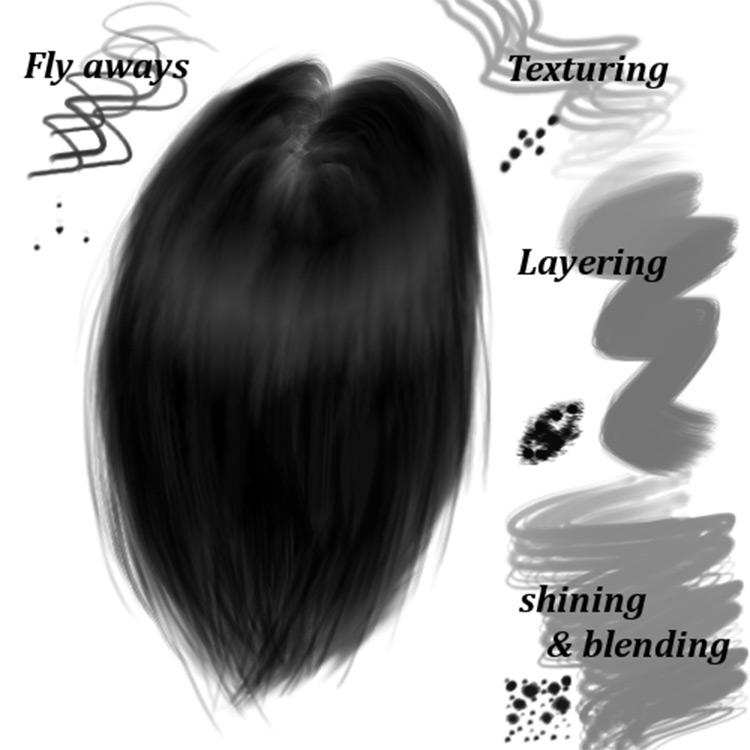 Painting hair. It's a real pain when you first get going.
Although if you have the right tools & the right brushes this makes it a lot easier.
Have a peek at this free hair pack full of brushes to alleviate some of that pain.
These are made for GIMP and come with some pretty large sizes by default. The blending brushes can go up to 1000px which is very large.
And these should work with almost every modern version of GIMP including any 2.x versions(and above).
You could always paint hair with some regular brushes and push through it. But why not make life a little easier?
Diamonds
At first glance this may not seem like much.
But after toying around with these diamond brushes I have to say they feel incredible in a painting environment.
I'd imagine these would be useful for graphic designers too, but the painting styles are really impressive. I haven't found anything quite like this in a long time.
If you like to add some shapely designs into your paintings definitely try these out.
You could also use them for accents in your work to sharpen up corners or to create a unique transition effect from high-res detail into low detail.
Free Brushes by daRoz
Artist Darek Zabrocki created this brush set for Photoshop and released it on DA. But it works just as well for GIMP and it really deserves a spot in this list.
Darek is a professional concept artist and he does a lot of speedpaintings online. Plus he often releases snippets of his work, many of which have comments from fans requesting his brushes.
That's exactly why he released this set.
It should be a must-own library for anyone working in the entertainment industry, or anyone who wants to. Or even hobbyists who just want to create amazing digital paintings.
These brushes are used by a real pro so there's something to be said about the quality.
Mane & Tail Brushes
Getting a little more specific we have these brushes focusing on animal hair.
Specifically a horse's mane & tail hair which has a very fine and semi-translucent style.
If you're painting a lot of animals this can help. It's a free brush pack with a few updated brushes from an older set, all combined into one pack for download.
Well worth checking out and there's even a small tutorial in the description on how to install these. Pretty cool!
Splatter Brushes
What list of brushes would be complete without splatter brushes?
Certainly not this list so I'm thrilled to toss in my favorite set of splatter brushes for GIMP. These were created by artist SparklingTea and released for free out to the GIMP community.
Originally the brushes were designed for PaintShop Pro and were later converted into GIMP for this pack.
From what I can tell the quality is superb and hasn't degraded in the slightest.
And these work well for digital painting alongside photo work & graphic design.
Inkpen Set

With varying lines and plenty of curves I have to recommend this inkpen set for every serious artist.
GIMP comes with a lot of great tools and it's a very solid option for digital artwork on the cheap. But it doesn't come with all the best stock brushes for art.
If you do a lot of manga drawing or inking for your illustrations I would highly recommend this set.
It's also a nice pack if you want to play around more with digital drawing over painting. The two are similar but some artists prefer doing studies digitally where drawings can be easier to fix.
Smoke Brush Pack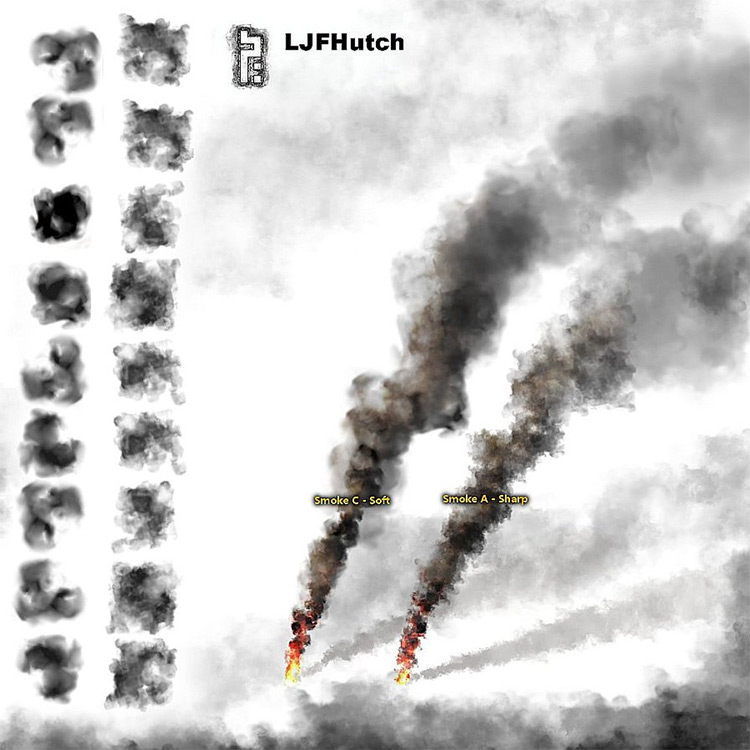 Now we're moving into some pattern brushes which can be useful on certain projects.
Take a look at these smoke brushes designed specifically for GIMP.
They look phenomenal and create a very realistic sense of smoke. But they also blend nicely into other textures if you want to design something with a smokey pattern.
Inside the pack you'll find 12 samples to work with and you can easily adjust brush settings to get a killer look that suits your needs.
Water Brush Pack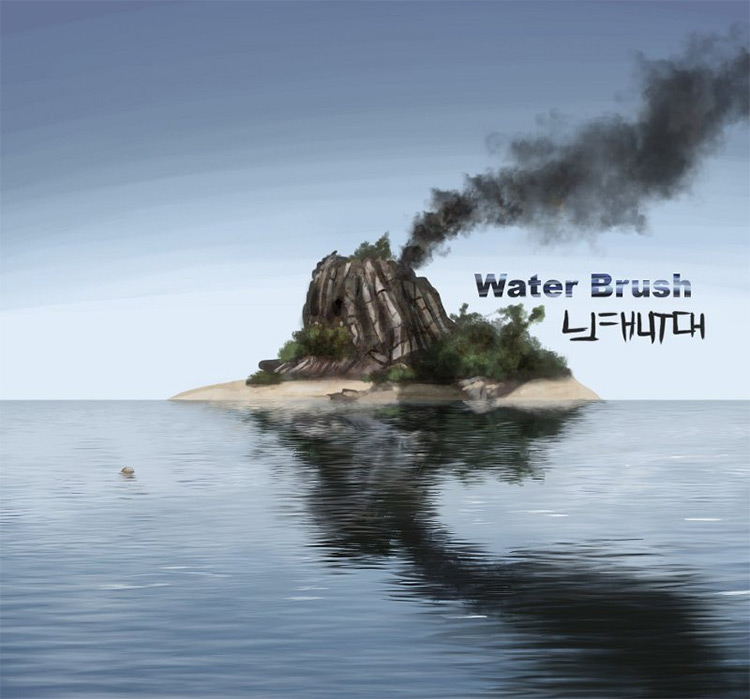 Another fun pack you might check out is this water brush set created by the same DA user LJFHutch.
Some artists just find water to be a real pain to create from scratch. These brushes can feel like a crutch rather than learning to paint water on your own.
But there's something to be said about moving forward with a painting and getting it finished no matter what.
No rules, just tools.
Grass Brush Pack
LJFHutch's third pack of GIMP brushes feature grass patterns that make greenery a whole lot easier.
This set even comes with a unique 30-second clip of speedpainting with this brush. It's nothing special but it does help you lay down some terrain in minutes rather than hours.
Inside you'll find 4 different styles of grass brushes all with their own unique customizable settings.
Definitely check this out whether you're painting custom scenery or just looking for a pattern to stamp onto your backgrounds.
Four Assorted Brushes
Variety is great. We all like having options and the more options we have when creating art, the better.
Here's a fun pack of 4 unique brushes that all stand out. This includes a set of fine textures designs along with a bokeh style for replicating photography techniques.
Not the absolute best choice for artists but it does have some fun brushes.
Compared to others in this list, four brushes may seem pretty small. But one of these brush styles may be just what you're looking for so take a peek if you fancy.
Real Pencil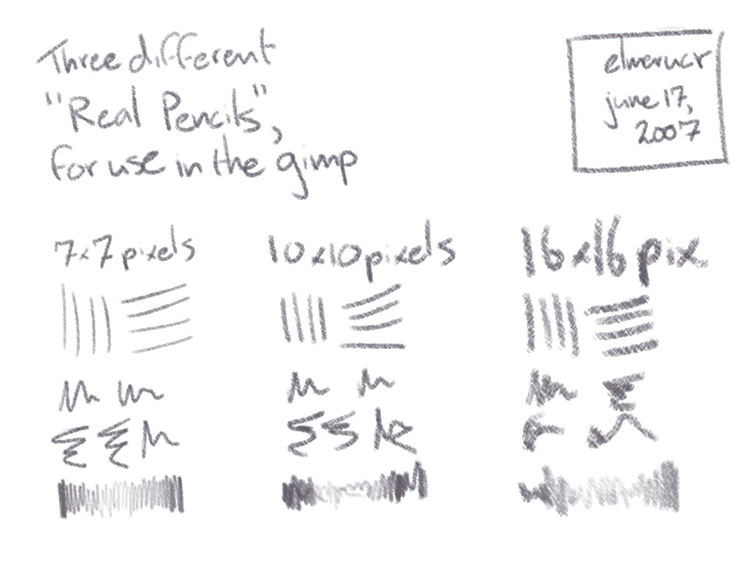 Graphite on paper is the de-facto art experience. Nothing beats a quality sketchbook and a nice sharp pencil.
But when you move digital this all changes… or does it?
With these real pencil brushes you get 3 different styles of graphite at the tip of your stylus pen. The variety is hard to beat and they all do look like pencil markings.
There is a clear "digital" side to these brushes so they won't stand out as much as you might want.
But for capturing that traditional look when going digital this brush pack works wonders.
Pencil Brush by Nari
Here's another cool pencil brush set from DA user Nari. I'd actually argue this pack is even better than the one above just because it has a larger mix of styles and more detail.
Really they're both useful but in different ways.
This pack is much more detailed and has more options to pick from. It originally came with 6 brushes and was then expanded to include 5 more.
Totaling 11 pencil brushes of varying widths and textures, this pack is phenomenal. Highly recommend it for any serious digital artist.
Hairbrushes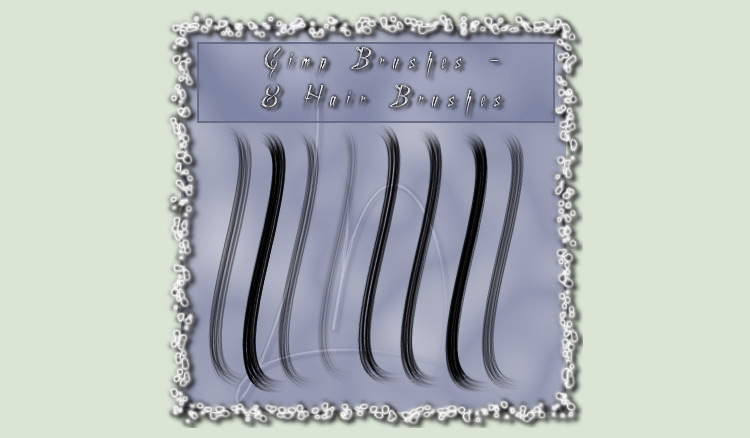 Hair is very difficult to paint right. Although once you get it down you'll never lose it.
The right brushes can really help and this set is especially worth saving. This includes 8 GIMP brushes all made for hair. It's an excellent set to work with, especially for more advanced artists.
If you're brand new to GIMP painting then I'd recommend studying a few tutorials first. Those will help you come to terms with the brush styles and how to capture a likeness from reference.
Either way keep this brush set bookmarked if you plan on doing a lot of portraits.
Rolled Paint
How often would you be using a paint roller in a digital piece?
Maybe not very often. But there are times where a texture like this can work really well in a sky background or in a dark underground cavern scene.
These rolled paint brushes are designed for all modern versions of Photoshop along with GIMP 2.2+.
A good variety of shapes and styles gives you full control over your pieces and the finishing textures.
Free PS/GIMP Brush Set
Artist Jonas De Ro does a lot of digital art and he put together this massive brush pack for Photoshop & GIMP users.
When I say massive I really mean it. There's gotta be at least 40-50 brushes in here and they all have their own unique feel.
The set breaks down into 6 categories:
Basic
Paint
Nature
Environment
Special
Guides
The "guides" are more for getting perspective down and setting up your composition.
But the other categories are full of brushes that'll take you from drawing to painting.
An awesome set for concept artists, storyboard artists, illustrators, character designers, comic artists… basically all creatives using GIMP will enjoy this brush pack.
---