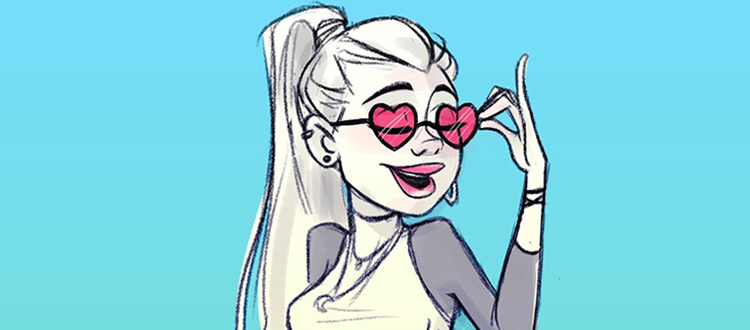 Interview with Julie Hauge Andersen: Danish Vis Dev Artist & Character Designer
Interviews
Animation
Disclosure: This post may contain affiliate links. That means if you buy something we get a small commission at no extra cost to you(learn more)
The world of entertainment art is absolutely massive. It can include visual development work for backgrounds or scenery, prop design for weapons, or character designs that bring a script's central characters to life.
Julie Hauge Andersen has built a career around art with a focus on animation and entertainment design—all from her home country of Denmark!
And one look at her art portfolio proves that she's got the goods. In this interview Julie shares a little about her history as an artist, her schooling, and how she got into the world of vis dev work.
A fascinating read for anyone curious about this industry or anyone looking to work as a freelance artist.
---
Can you share a little about yourself, your history with art & what caused you to pursue art as a career?
Since as early I can remember I have always wanted to pursue a career as an artist.
I began drawing seriously when I was around 15 as I started The Drawing Academy studying classical drawing and anatomy at The Animation Workshop in Denmark.
I was then accepted to the Character Animation program when I was 17 on a dispensation based on talent, as I was too young to have the degree to be accepted on normal terms at the time.
When I graduated with my first Bachelor Degree in Arts in 2007 I already knew that I was not meant to be an animator. After some years working I found my way and decided to take another degree at The Animation Workshop in 2013, but this time at the Graphic Storytelling program.
I found that I really wanted to tell stories and develop my skills as a designer, to pursue a career in Character Design and Visual Development.
Besides my education I have been using a lot of my time developing my work through drawing a lot and doing personal work on a regular basis.
Where do you find the most inspiration for your pieces? Do you feel that drawing from real life plays a role in your artistic style?
I find my inspiration in a lot of different ways and I have had a variety influences throughout my life, that follows me and makes an impact on the work I do today.
Animated films has always played a big role but also literature, mythology, comics and games, amongst many other things.
I don't really get a lot of time to draw from life, but I do take inspiration from people I see or small stories from everyday life that I hear or experience.
I incorporate, warp, and mix these into a stylized version in my work. Drawing from life can be a very good exercise to practice a number of skills and it's definitely never a bad thing to do life drawing or still lifes.
What was your experience at The Animation Workshop and how did your time there shape your current skillset?
Being at The Animation Workshop was one of the most rewarding experiences in my life. It definitely had a big influence on my development.
I grew up as an artist in this wonderful and inspiring environment and I learned so much, not just as a draftsman but also about myself.
In my personal opinion, it's the best school for animation in the world based on the way they plan the programs of education and the amazing and free environment for artists to grow in.
Mostly because they hire professional artists that are working full time in the industry today, who have real insight into what is going on and the demands of being a working artist.
They give a very real picture of what it means to work in different areas of animation, games, and also illustration art and comics. The school gives room for the individual artist to develop their own skills and provide a wide range of tools that are currently relevant to the industry.
I can warmly recommend anyone who might be interested in pursuing an art education, to go to Denmark and attend one of their three bachelor degree programs or some of their master classes.
On your visual development work: what typically goes into a vis dev project? How do you plan a new piece start-to-finish and what do the deliverables look like?
When I start a project I usually work very broadly with the subject and story that I'm trying to capture, but my main focus is to convey a specific mood or feeling of a character or environment that I'm working with.
I start out sketching and doodling around. I always try to include storytelling points and for me that is essential so I find the best possible way to interpret the story into visuals.
In working with the client and seeing what they react well to, I take it from there and together we find the end result in collaboration.
The deliverables range from very loose sketches to a fully finished piece depending on the project and where in the process we are.
In your opinion, what are the most important skills needed to create incredible vis dev & character design work?
For me, I think that story plays the main role of doing visual development and character design. It is essential to everything that goes into the process.
I usually say story is the king of the game, the center of attention.
Then next, an ability to come up with a range of ideas. Pushing and modifying them to extremes but also taking direction and pulling everything together.
On top of all that, there is of course the draftsmanship and design aspect that plays a big role in getting hired to do such a job.
Drawing a lot and training your brain to come up with ideas, solve problems, refine them, and bring them to a finished stage, it's an important skill to have as well.
A love and passion for your job keeps you going and drives the whole process.
Can you share about your experience working on Big Hero 6: The Series? What type of work did you do on the project and what was the workflow like?
Working on Disney Television's Big Hero 6 series was a great experience and I loved working in the studio with the team.
I worked in the art department as a background artist at Nørlum Studios in Denmark.
It was a high rate of producing paintings, at high quality, to meet the production quotas and standards every day.
We were usually assigned x amount of backgrounds in a sequence every week and also dealt with retakes, feedback, and adjustments from the animation department as well.
We worked in the specific style of the series and created backgrounds based on the storyboards, all provided from Disney Television Animation in Los Angeles.
I had the chance to go to the studio in Los Angeles and meet the art director and all the great artists on the team there. It was a great experience to be warmly welcomed and see what their end of production looked like.
Animation is often team-oriented where many artists work together on one project. Do you have any tips on how to mesh nicely & work in sync with a team?
Creating animated productions is definitely a team effort. But it can be difficult for some to work as a team.
I think it is very important to remember not to take anything personal when receiving feedback and to keep in mind what is good of the project.
Listen other people's ideas and try to help shape them into something unique with the ideas and skillset that you bring to the table.
The animation pipeline is set in a certain hierarchy, so try not to step onto other peoples toes when working in a team. Always keep in mind that you are all working for a common goal of realizing this project together.
Stay positive, even if sometimes you're forced to kill your darlings. No matter how great an idea may be, it might not serve the story well.
Take direction and let the story director, art director, and production designer lead you and the team on the right path. They're the ones who have the bigger picture in mind and are supposed to pull everything together into a finished film or TV production.
How big is the art world in Denmark compared to other larger countries like the US? Specifically in regards to animation & illustration, what does the art world look like there?
The animation industry in Denmark, I would say, is doing quite well considering how small our country is with an even smaller industry.
We produce feature films as well as TV shows and commercials for danish and international productions.
The industry here, as the rest of Europe, is based a lot on national funding by the state. And that can sometimes make it hard to raise the large amount of money that productions in other countries may have.
It also slows down the process of getting projects funded considerately. Nonetheless everything taken into account I think we produce a pretty high quality of animations in Denmark and we have a lot of very skilled artists here.
A small question on your routine: what does a typical work day look like for you? Are there any tools or programs you couldn't live without, and how often do you spend working on paid projects vs practicing or drawing your own stuff?
I start my day by checking and answering emails, or doing Skype calls with clients.
Then I start working on the tasks of the day while keeping in touch with my clients.
I usually do a little bit of sketching for myself in my breaks to kind of take a step back and clear my head.
I use evenings working on my personal projects and designs. It's a way to keep learning and developing as an artist, but also to relax.
I work full time as a freelancer and I would say that I use 80% of my time working on paid projects and 20% on doing my own personal work, but it varies depending on how busy I am and how many clients I juggle at the same time.
For me it is extremely important to do my own personal work, as I develop as an artist and test things out when I do so.
Besides that I need to have an outlet, to keep it fun, and have a space where I do all the decision making.
I couldn't live without it and I have a passion for creating my own stories and small worlds.
I work on a Wacom Cintiq in Adobe Photoshop everyday and it's a tool that I definitely couldn't go without, in my professional as well as my personal work.
I also use an iPad Pro with ProCreate but that's mainly for small sketches and personal pieces.
What do you think a new freelance artist can do today that'll help them get noticed and land project work in the animation industry?
Generally I think that social media platforms are a great thing for all artists to get on: Instagram, Tumblr, ArtStation, and LinkedIn specifically.
To do free self-promotion is great and it helps you reach an audience.
Sharing your art and ideas with the world shows you're active and passionate. It also creates an online community for artists who might not have a lot of other artists around them on a daily basis.
As it can be the case when working as a freelance artist, it can get a bit lonely at times.
With that said, I think in a higher degree today artists are expected to keep a consistent online presence on social media, but I don't feel that the popularity on social is in any way crucial for landing jobs.
Create a strong PDF portfolio with 10-20 pieces of your best work and make an effort to apply to listed jobs, as well as sending out emails to any studio you can think of in your own area and in other countries.
You might send out hundreds of emails but eventually some of them will come back to you or keep you in the system for projects that might fit your skills.
When creating a portfolio try to have a variety in complexity and style in your work. It can land you different kinds of jobs and also shows a capability to adapt to a range of projects in feature animation as well as TV.
Some productions require you to work in a specific style that is already planned out for you, so adopting other styles is also a good skill to have and you learn a lot while doing it.
There are many things to juggle when working as a freelance artist, not just creating artwork but also administrative things and keeping in touch with your clients.
Even while working on one project you will be chasing the next one to stay in the loop.
It can be challenging and you most likely work a lot more than you would working as an in-house artist at a studio 9-5 job.
Therefore remember to set aside money for rainy days and taxes, I usually take 50% for living and the other 50% on my savings account. Even if this sounds like a lot to manage I think it's a super fun and rewarding way to work as a freelancer, because you get to work on a range of different projects with different people of all nationalities.
It also gives you some amount of freedom to control your own time and schedule, balancing your private life with your work. Freelancing as an artist is not for everyone but I really love it.
---
A big thanks to Julie for all her time on this. If you're interested in character design or visual development work then I hope her story can offer some inspiration.
If you want to see more of her work take a peek at her website or browse through her recent Instagram posts @juliehaugeandersen.
---