Best Online Digital Painting Courses To Go From Beginner To Advanced
Digital painting is the new norm for creating entertainment art.
Whether you want to create animations, comics, characters, or insane concept art, you'll want to learn digital painting.
This involves learning two different skillsets: the painting software(like Photoshop) and how to draw/paint on a tablet.
We've covered some great books on digital painting, along with a detailed buyer's guide on how to find a great tablet.
But for actually learning to digitally paint, I personally think video courses are so much easier. They offer step-by-step instructions where you can watch a professional work in real time. Many even have Q&A sessions or mentorships to help improve your skills faster.
I've listed my top picks for the best online classes & courses to help anyone learn digital painting. Doesn't matter what type of art you want to make or your current skill level. This list is gonna have something for everyone.
Digital Painting Studio
Check Out Digital Painting Studio
Are you looking for a career in concept art, game art, or character design? Then you definitely want to look into Hardy Fowler's Digital Painting Studio.
This offers a monthly subscription just like Paintable, but this is geared more towards career-oriented artists(rather than just hobbyists). With Hardy's online training you can go from the absolute basics, all the way to a professional level, including tips on how to develop your portfolio to land jobs in the industry.
About Hardy's credentials: he knows what he's doing. With 10+ years experience working in the industry on character designs, environments, everything you can imagine… he's someone you'll absolutely want to learn from.
Now it is possible to purchase each course individually, but with the $39/mo membership you get access to the entire library, plus any new courses that get released in the future. Here's a quick look at the course topics available right now:
Character Design
Painting Environments
Painting Faces
Concept Art Architecture
Creature Painting
Art Fundamentals (In One Hour)
Art Professional & Business Course
So you can go from the absolute basics of art, all the way through a specialization like creatures, props, characters, environments, and finish off with a course on detailing your portfolio to start applying for jobs.
This library is constantly growing and the goal here is not just to make you a better artist. The goal here is to make you an employable artist that can earn well from your work.
If you are at all interested in concept art for a career, definitely check out Digital Painting Studio and see what you think.
The monthly membership also has a 30-day return policy so you can sign up, try it out, and if these courses just don't seem to fit your goals cancel within 30 days and get a full refund.
Paintable
Paintable offers an online Digital Painting Academy that truly deserves a mention here. It's basically an entire community of digital painting with structured video lessons that teach you how to go from absolute novice to pro, all working digitally.
No question in my mind: Paintable is amazing.
This works on a subscription model where one monthly fee grants you full access to their library of video courses. Paintable offers a super targeted library focusing on just digital painting, along with different paths you can follow depending on your skill level.
Over 150+ videos, dozens of exercise files, and monthly live workshops offer plenty to do each month.
New videos get added frequently so that's also a nice bonus. But the true beauty of Paintable goes beyond their instruction videos. Look at all these amazing resources you get with your account:
Free brushes
Q&A sessions
Process videos
Custom cheatsheets
Exclusive artist community
Everything about Paintable should appeal to digital artists. Whether you wanna work in cartoons, movies, video games, or just paint for fun, this site has everything you need to get started.
Take a peek at their preview video to get a quick sample of the lessons and the video quality. Also the main page has much more info on the community, video topics, and the teaching style.
21-Draw
If you're like most artits, you don't want to just learn how to work digitally. You want to master the craft, paint in your own style, and be able to create anything you want.
Well the team at 21-Draw covers these topics phenomenally in all of their courses, and each one has a unique focus on digital painting.
Right now they offer about a half-dozen courses on topics like gesture, character design, creature concept work, and some other similar topics. You can browse their course page to see what they have to offer.
In general, I think this is not exactly a newbie guide. You can look at some of the free preview videos on the course pages to see that they do expect you to be comfortable with digital painting, at least a tiny bit(or just using a drawing tablet).
Some of these courses have a slower intro and fit much better for beginners. If you buy their Illustrator Masterclass you get access to every course so that can be a really good option for newer artists. But if you want a more focused approach I would specifically recommend their character design series along with their environment painting course.
Each one comes with over 4 hours of video content, all step-by-step, meant to get you comfortable with digitally painting just like a professional concept artist or illustrator.
This kind of information is valuable no matter what type of digital art you want to create: comics, concept art, visual development stuff, it'll all have some character work in the mix.
And each course demonstrates how to follow re-create the same artwork on your own.
The videos teach you step-by-step with extra goodies like PDFs and the completed files or brushes in some cases. These lessons are more of a self-paced series too, so you're expected to keep up and put in the work to move forward.
But with specialized topics in characters, creatures, and environments(among others) there is plenty to keep you busy.
If you're at all curious about their courses definitely have a peek at the site and check out their demo videos. The 21-Draw stuff is superb for anyone diving into digital painting and hoping to take it to the next level.
Plus every course sells as a one-time flat rate so once you buy, you get access for life.
Digital Painting in Photoshop with Aaron Blaise
Aaron is a true animation veteran having worked for Walt Disney Animation for more than 20 years on some incredibly popular movies.
He knows a thing or two about digital painting and how to work as a digital artist. Whether you're looking to get into concept art, animation work, character design, you name it… this course offers a strong foundation to get started on that path.
In this 12+ hour video series Aaron shows you exactly how he paints digitally and workflows that might help you land a job in the industry.
You actually get to watch him change brushes and flip through Photoshop painting techniques in real time as he's talking and instructing you to follow a similar process.
This is definitely lengthy so it's really ideal for beginner-to-intermediate artists who want to absolutely master digital painting. The course covers:
Digital sketching, digital drawing
Working digitally from a reference
Characters, animals, and environment
Customizing textures
Learning the PS interface
Creating your own PS brushes
Bonus assets, brushes, and a lot! more
The price is also just a one-off fee so once you buy this course you own it for life. Many artists prefer this kind of setup since it's much more long-term and ultimately more pragmatic.
All videos are in full HD quality so this really feels like a modern deep dive into the world of digital painting.
Maybe the only downside here is that you'll just be working in Adobe Photoshop.
But let's be honest: if you want to do serious digital painting for animation, concept art, or just at a professional level for commissions, then eventually you'll need to learn the software.
I highly, highly recommend this course for anyone who's serious about a career in entertainment art.
Aaron has walked the walk before getting into teaching. He's already put in decades of work into animation(traditional animation, no less) working on movies like Aladdin and The Lion King.
If there's anyone you want to take painting & career advice from it's this guy. Have a peek at the course page just to see if it'd fit with your goals.
Pencil Kings: Digital Painting for Beginner Artists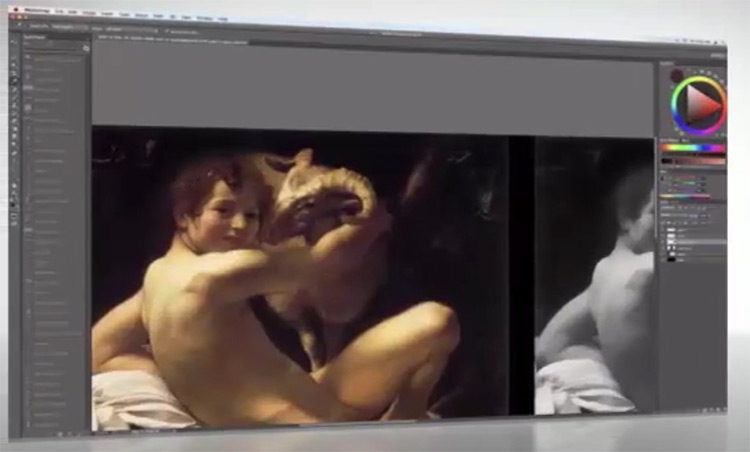 If there's one community dedicated to helping you improve as an artist, that community has to be Pencil Kings.
It's a massive community of artists from all skill levels who share tips, advice, and critiques on their work. But Pencil Kings also has a huge library of videos on many topics like illustration, portraits, and concept art.
One such video is Digital Painting for Beginner Artists. No doubt one of the better courses on painting because it takes you from the very beginning and teaches all the core skills needed to paint on a computer.
In this course you'll study from artist Jade Mere as you learn how to use brushes in Photoshop, how to work with layers, and more professional tips for easy coloring. Note that tablets feel very different than traditional painting.
Even if you have some background in oils or watercolors you'll still have a learning curve. Thankfully Pencil Kings only publishes clear & concise videos. This course is by far their best for beginners jumping into the world of digital painting.
And Pencil Kings offers two ways to access: you can buy the course for a flat fee or join the community for a monthly subscription. The monthly sub gives you access to all their videos along with the PK forums.
These forums are one of the few places online to get genuine critiques on your work. If that's something you're after then it's worth subscribing. Otherwise you can get the flat course for pretty darn cheap.
And if you're a novice at digital painting you'll be amazed how much you can learn.
Ctrl+Paint
Every artist should know about Ctrl+Paint. The site was created by Matt Kohr who's a professional concept artist with years of experience on various projects.
He created the Ctrl+Paint website as a genuine resource for digital painting. It literally says so right on the about page.
This is perhaps the "original" digital painting resource for artists. Ctrl+Paint has been online for years and the videos are just as relevant today as ever before. I actually recommend skimming the main YouTube channel to have a look at some of Matt's videos.
Many of these are released for free just to help artists get started. But Matt also has digital products like the Digital Painting Starter Kit(among many other courses).
Matt uses a freemium model much like Proko where you can view free videos online, but the premium vids have the real goodies.
Still I recommend browsing Matt's free video library to start. It's huge and the video quality is seriously top notch. From there you can check out some of the premium courses, most priced around $10. You'll find tons of variety in this library.
Whether you try the premium vids or stick with the free options, Ctrl+Paint should be a site you keep bookmarked. It's basically the Harvard of digital painting and it's gonna be around for years to come.
CGMA: Digital Painting
All the courses in CGMA are unique, feature instructor critiques, and get new updates with each semester. These courses aren't singular pre-recorded videos like others I've mentioned in this post.
Instead CGMA runs live training with instructors who release new videos each week. You then complete homework given to you each week, then offer your work to the instructor for critiques. It works much like an online school where you study with an instructor and you're given homework with each lesson.
Their best course on digital painting has to be, as you might guess, a course titled Digital Painting. It runs for 8 weeks and you're given deadlines each week for new practice work.
You might notice on the course page it says videos are pre-recorded for each lesson. This doesn't mean the videos are recorded once and left alone for years.
This means the instructor records new videos for each semester to improve the training with each batch of students.
Here's all you need for this digital painting course:
Photoshop
A drawing tablet(preferably Wacom)
Solid drawing skills(this is crucial!)
Please note: if you're brand new to drawing/painting digitally then unfortunately this course won't help. It mentions pre-reqs on the course page which recommends that students take Fundamentals of Design first.
But the pre-reqs for that course are Dynamic Sketching one and two. This means you'd basically have to work through a semester's worth of courses(and over $1500 in fees) just to go from newbie to competent enough for the Digital Painting course.
If you're already confident in your drawing abilities then I 100% recommend skipping everything and going right to CGMA's Digital Painting. You can even ask the instructor to look over your work and judge if you're ready for the course material.
However if you are a beginner you'll have a much easier time learning to paint digitally if you join Paintable or Pencil Kings.
Still, if there's any site that comes close to an online digital art school it's gotta be CGMA. And their prices are cheaper than even one year's tuition for an art college.
Schoolism: Introduction to Digital Painting
Another online resource you might wanna try is Schoolism. They have a digital painting course created as the perfect intro for beginners.
The class is taught by Andrew Hou and it's really fantastic. Andrew's work speaks for itself so you know he's a competent teacher on this topic.
The thing with Schoolism is that courses must be paid for individually and they all work on a subscription model.
This means if you buy the Introduction to Digital Painting course you'll need to pay a monthly fee every month to keep your access.
If you wanted to add a second course you'd need to pay for that separately. However most people just switch their subscription to a different course once they're done, so they'll do the Digital Painting course first and then renew monthly but switch to a new course for the same price.
Here's a quick breakdown of Schoolism prices looking at Andrew's painting course:
$29.95/mo for full access(videos + prerecorded critiques)
$798 one-time fee for full access plus personal one-on-one critiques
The personal critique fee is much higher than the subscription fee. But it's actually not much pricier than CGMA. And with Schoolism you get the same quality of one-on-one critiques.
However Schoolism's critiques are only available during set dates when the instructor is available. If you buy either plan you can watch the videos forever as many times as you want. The only difference is that one-on-one critiques must happen during set dates.
If you don't care much for those(or don't have the money for em!) then definitely try the main Intro to Digital Painting course. There's also another digital painting course hosted by Bobby Chiu that you might try after Andrew's course.
Pluralsight's Digital Painting Path
Recently we published a full review of Pluralsight's video subscription library. That review has everything you'd need to know about the Pluralsight setup and what you can learn from their library.
It's another monthly subscription service but Pluralsight is by far the largest digital creative video library on the web. It covers 2D art, 3D art, animation, modeling, game design, everything.
And yes, they even have a sweet digital painting series that can help anyone move from beginner to advanced with their Photoshop artwork.
Note you can try Pluralsight's free trial and cancel before ever being billed. This is great for testing the waters without committing.
But for the monthly fee you'll get access to all of Pluralsight's videos along with exercise files, fast support, and even optional one-on-one calls with some instructors. Their digital painting path is made up of many different courses hosted on Pluralsight, all hand-picked by creatives to make the smoothest learning path for everyone.
You'll start with the absolute basics of Photoshop's interface learning brushes and layer effects, selections, all that good stuff. From there you'll move into more detailed courses on adding photos to paintings and storyboarding in PS CC.
Pluralsight is not the best choice for everyone because it's such a massive library. They can feel a bit "thin" in some art topics because they mostly specialize in GC/VGX tutorials.
If you want a more specific source on digital painting I really recommend Ctrl+Paint and the Paintable Academy.
But from all of these online courses I guarantee you can find something to take your painting skills up quite a few levels.
---