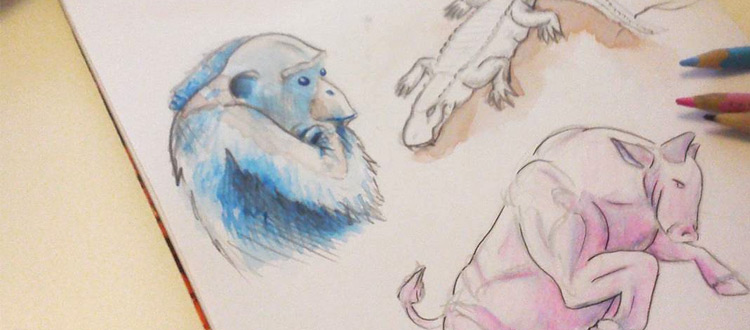 Online Illustration Courses & Digital Classes That'll Make You A Master Illustrator
Anyone can learn how to draw. But illustration is more than just drawing.
It's creating life-like artwork by exaggerating from life.
It's about the real world merging with imagination. You can design illustrations for books, games, comics, and so many other projects. They're just so fun.
This medium isn't easy to master because there isn't a single illustration style. But if you'd like to dive into the world of illustrating then keep on reading.
I've curated the best online training courses that let you study from home and learn to illustrate like a pro. These courses vary based on skill level but I guarantee you'll find plenty here to push your illustrations to the next level.
21-Draw: Character Design Illustration
So 21-Draw focuses on digital art only. But it teaches a wide variety of topics and each one is covered in so much detail that any illustration topics will cover almost everything you'd want to know.
These courses are interesting because they're taught by real industry experts. These are people with decades of experience working in animation, film, concept art, you name it.
And since each course is taught by a real specialized artist you get to learn professional approaches & techniques for different types of illustration work.
For example, they have a course on character design taught by Kenneth Anderson. He's worked a lot in the character design space and he's worked with some household names like Disney.
That course is in-depth and covers almost everything you'd want to know about character design. But they also have related illustration courses on topics like environment design and creature design. Again, all taught by industry pros offering hours of step-by-step videos to help you master these disciplines.
Perhaps the biggest takeaway I have from 21-Draw is that specialization factor. They really hone into different focus areas so you can practice exactly what you want to create. After all, the best way to become a master of any form of art is to practice that type of art.
But it certainly helps to have a pro guide you along the way.
I think the demo videos on 21-Draw speak for themselves so if you're curious have a peek at their courses page to see everything they offer. Click into any course that looks interesting, check out the demo, and see if it could be a good fit for you.
I think their courses are best for anyone who isn't a complete newbie to drawing, but might be new to digital work or digital illustration in general.
Proko: Art of Caricature
Everyone should know about Proko and the incredible content in their courses. I've written a bunch of reviews about the Proko series and I would recommend these video courses to every single artist.
That said, I think one specific course stands out for illustrators.
The Art of Caricature taught by Court Jones is a phenomenal series hosted under the Proko library. This teaches you how to exaggerate with purpose, how to capture likeness, and many other skills you can apply to your illustration work.
Granted this isn't a course on how to illustrate per-se. It has a heavy focus on caricaturing but the lessons themselves apply to all types of art, especially illustration.
Looking to design your own webcomic characters? Or maybe you're practicing character design for an indie video game idea? This course will help.
I've never found a bad course from Proko since they all have incredibly high standards for audio/video recording and very detailed lesson plans.
You can learn more about this course in our detailed review of the caricature series.
But suffice it to say I would highly recommend this to any aspiring or self-taught illustrator. So much value packed into this video series and the price is phenomenal for what you get.
Pencil Kings
The incredible course library at Pencil Kings has a little bit for everyone.
You'll find video courses on anatomy, gesture, and more technical skills like digital painting.
But they also have two specific courses aimed towards illustrators: there's an intro course followed by a more advanced course on the process of illustrating.
Both are definitely worth looking into assuming you want to diversify and improve your illustration skills.
If you're already somewhat comfortable with drawing but have never done any illustration work then Pencil King's intro series will be perfect. It totals just over an hour which may not seem like much, but it crams a lot into those 60+ minutes.
Now if you're already comfortable illustrating but want to nail down some more complex ideas then check out their advanced course.
That'll cover more workflow topics like researching ideas, thumbnailing your prompts, and planning different aspects of your composition like the color scheme.
I suggest the Pencil Kings library only because it offers so much value to artists. You can learn a lot from these courses if you find some titles that really fit with your needs.
Plus if you sign up for the monthly trial you get access to a huge community of other artists. A great way to connect with like-minded illustrators and help each other improve.
Paintable
Paintable has quite a few courses in their Digital Painting Academy with a heavy focus on… well, painting digitally.
Many illustrators work digitally nowadays for a few reasons. Easier cleanup, easier to manage, fewer supplies, and overall a simpler experience.
If you're moving towards the digital route then check out Paintable's course offerings. They cover a broad range of topics from portrait painting to more specific tutorials on designing props, environments, character outfits, and quite a bit more.
Plus they're always releasing new videos so there's plenty to pick from.
I've found their lessons to be some of the most comprehensive educational tools for digital artists. Professionals can learn a lot from these videos and novice artists will pick up invaluable tips.
Each video is sold separately but check out the library page to see what you think.
Overall Paintable targets a very specific segment of illustrators who work only in digital.
But this is a growing segment and it's quickly becoming "the norm" for illustration work.
DrawingFORCE
Professional artist Mike Mattesi is the talented guy behind all the FORCE books.
These are some of my favorite reads and they're brilliant for animators, storyboard artists, or even character designers.
Beyond these books Mike also created an online education site with video lessons that are sure to please.
These focus on many similar lessons that you'd learn from the FORCE books. However these videos also place an emphasis on practicing from real references and ingraining certain behaviors into your practice routine.
Ever wanted to draw more accurately at the zoo or capture people's likeness a little faster?
Mike's got a handful of classes that are bound to improve your confidence in all of these areas.
It's worth noting these lessons vary greatly in skill level so if you're a newer artist you should stick to the "Force Basics" pack. Jumping ahead can feel intimidating and leave you discouraged.
That said, if you're already comfortable sketching from life you can pick up any lesson pack and start studying.
And Mike even offers one-on-one mentorship which would be incredible for artists who want a professional's eye. This is the best way to improve your skillset and get real personal advice from a very skilled artist.
The mentorship option will cost a lot more so it's not for everyone. But it's doable if you're willing to spend the money and if you're serious about learning.
Either way the video courses are a lot cheaper and they come with a simple monthly subscription. With a range of topics from character design to animal drawing I think there's a little something in here for everyone.
CG Spectrum Illustration Diploma Course
While CG Spectrum is not a typical online course creator, they are a leader in online digital arts education. When you sign up to a CG Spectrum class you get real live instruction from a talented artist who has experience in the industry.
This goes for all of their classes including a newer launch: the Advanced Digital Illustration Diploma Course. Note this is a specialty course aimed towards artists who already have some background in the fundamentals of illustration work, but now want to push their skills even further.
Really you should think of this more like an online classroom because that's exactly how you're taught.
You get one-on-one training with a talented industry-level instructor(at the time of this writing it's Eric Wilkerson). This means you're learning from people who have previously worked with huge companies like Marvel or Disney. Seriously, they know what they're talking about and they're the people you want to learn from.
Unfortunately the biggest downside here is the price. Nothing at this level comes cheap and it's gonna cost a lot more to get a seat in this online class than purchasing any other course on this list.
But this also runs for 12 weeks and gives you a detailed curriculum to follow. Naturally this whole process includes personal critiques from the instructor so you aren't just watching videos; you're actually getting feedback from qualified artists whose feedback you'll wanna listen to.
So it's worth weighing your options to decide how useful this course would be to you, along with an honest assessment of your current skillset.
Are you able to follow a more regimented, more advanced illustration course from start to finish? Would that be useful at your current skill level? If you're not sure how to answer those questions you can always email the folks at CG Spectrum.
They're super friendly and really helpful to anyone who might be on the fence about purchasing. We actually did a detailed review of their intro to concept art course so that might give a bit more insight into what you get with one of their online classes.
CGMA Narrative Illustration
There's a lot to say about CGMA but I'll suffice and just say they're awesome.
They're one of the largest online art education resources for studying under a professional instructor with a digital classroom setting.
And if you take a look at their course listing you'll notice there's quite a lot available.
From the basics of Photoshop painting to character design for video game and even courses on storytelling, it's all here.
Out of all these courses I really wanted to find the best one for illustrators. I eventually landed on Narrative Illustration since it offers a good mix of storytelling and illustration techniques.
This course teaches you how to draw stories. Yes, that sounds weird.
But it's a skillset that every illustrator should develop.
Your characters should feel like they have a story behind them. Whatever they're wearing, their expression, their posture, everything should develop around the character.
This is what you'll learn in CGMA's 8-week series on illustration drawing with a rigid course syllabus.
With that said I'm also a huge fan of their Fundamentals Of Character Design course which covers a lot of art fundamentals and how they apply to illustration work.
Both of those courses are absolutely worth your time.
CGMA is pricier than other options but you have to remember that you're working with a live instructor. You aren't getting bulk videos that were recorded back in 2009. These video lessons are refreshed with every new course and you get direct access to an instructor.
For the price I'd argue CGMA is the best art education you can get from your computer.
But before you start planning your syllabus make sure you check the prerequisites for each course. CGMA is not the best place for absolute newbies so you really need some background in drawing & sketching first.
Schoolism
The folks at Schoolism develop some incredibly detailed courses. They also offer a unique pricing structure that can work well for artists on a budget.
You sign up for a monthly fee and get access to the entire library of Schoolism videos. Pretty cool right?
There are so many great courses here that would benefit illustrators too. The ones I'm most fond of are their character courses.
This one by Stephen Silver looks into the fundamentals of character design. We actually reviewed his book The Silver Way that shares similar tidbits that you'll find in his character design process.
Naturally the video course will be a lot more detailed so it's worth joining if you're serious about illustrating believable characters.
Another course I like is Characters for Animated Film which is definitely worth checking out if you're interested in the animation industry.
Illustration skills apply to so many jobs for animation art. Storyboarding is basically illustrating, so is character design and the fundamentals of visual development work revolve around illustration techniques.
If you visit the courses page you'll see a list of online courses with many others that can directly(or indirectly) help improve your illustration skills.
You'll see there are options to subscribe monthly or pay a larger annual fee. There's even a choice for a critiqued session where you're guided by the course instructor.
Granted not all courses offer that privilege but much like the CGMA lessons above, the private lessons will cost quite a bit more. I think it's worthwhile to have guidance but given Schoolism's cheaper monthly rates it seems to make sense going that route instead.
Have a look at the Schoolism courses and see what you think. I'm pretty fond of their library even though it doesn't change much.
But I do find their courses highly relevant to anyone interested in entertainment art or general illustration work for books, games, movies, or comics.
Pluralsight Illustration Training
The massive online learning company Pluralsight is perhaps the best place to study tech. It's one of the biggest names in online learning and they cover more than just coding.
A few years back Pluralsight merged with Digital-Tutors which was an arts-focused company. This radically increased the Pluralsight library which made their content a lot more friendly towards creatives.
You can get a full rundown of Pluralsight in our detailed review but I want to recommend one specific path for illustrators that you'll find in their course library.
The Illustration Training Path was designed explicitly for digital illustrators who want to master a variety of programs for digital art.
Pluralsight "paths" are just a collection of different courses aimed at helping you organize your learning regimen. These do not cost extra and you get full access to the Pluralsight library with just one monthly fee.
Generally speaking I would recommend Pencil Kings as a better monthly subscription for artists.
However I think this path in Pluralsight is worth looking into, especially if you're more serious about digital artwork.
Luckily you can sign up to Pluralsight for a free 7-day trial and if you don't like it you cancel right away. This is a great option if you'd like to investigate and see what they have to offer.
The majority of their content does revolve around tech and digital work, so you'll be hard-pressed finding any traditional art lessons on here.
But if you gravitate towards digital painting & digital illustration give Pluralsight a try. It's one of the few options for online learning that offers a free trial period.
Society of Visual Storytelling
The Society of Visual Storytelling is packed with resources for artists.
While they do have some informational content and a small forum, they are most well-known for their online courses.
You can get full access to all courses for a monthly fee or just buy them individually. This is a nice option for anyone who doesn't want to commit right away but still wants to check out the SVS quality.
Now there's also a curriculum page that can help guide you along a learning path. I find this is pretty simple and may not apply to all artists, but is still worth checking out if you aren't sure what SVS can offer.
The team also has a few live classes handled online that you can join and learn from a live instructor.
Very helpful and incredibly valuable for anyone willing to spend the extra money. Not to mention these live classes are considerably cheaper than Schoolism or CGMA so they're excellent for live tutoring on a budget.
The unique point of SVS is the variety of topics you'll find in their course library.
Some video teach digital sketching, others cover mixed media or drawing graphic novels. Then there's videos on topics related to illustration like creating a children's book art portfolio.
You will also find some duds in the course library that won't interest you. Not all of them are art tutorials and a few talk about career advice or specifics on how to become an artist.
Still, check out the SVS library and see what you think.
Since you can buy the courses individually you may stumble onto something that helps you move past a roadblock on your illustration journey.
---