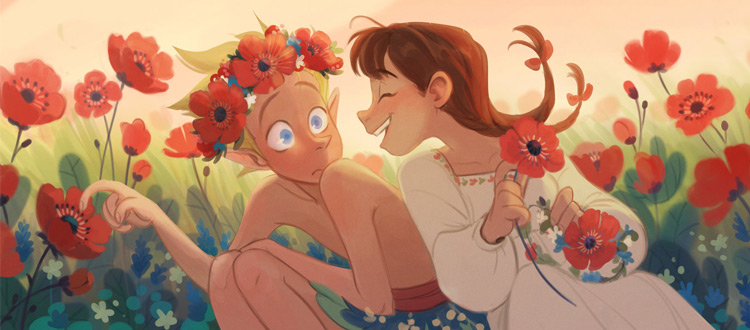 Vietnamese Artist Chi Ngo Shares Her Story Of Art, Animation & Publishing
Interviews
Animation
Disclosure: This post may contain affiliate links. That means if you buy something we get a small commission at no extra cost to you(learn more)
Chi is an incredibly talented artist with a broad range of influences that affect her style. She hails from Vietnam and currently works as an artist in the entertainment industry doing everything from background paintings to visual development work.
You can find a bunch of her amazing artwork on Instagram @chillustrates and even find more in her book of personal artwork.
In this interview Chi shares her love of art, why she pursued a career in animation, and some advice for other artists looking to do the same thing.
---
Can you share a bit about your background growing up, how you got into art, and what pushed you towards art as a career?
I always knew that I wanted to do something creative. Growing up in Vietnam, I thought I was going to become an architect just like my parents.
But as I grew older I fell in love with art. For someone who is not good with words, art was my way to express what I want to say and tell my stories.
As I took more and more art classes I decided that this is what I wanted to pursue as a career, which is why I applied to ArtCenter.
I am incredibly fortunate to have parents who encourage me to do what I love, and I hope I am able to make them proud of my work.
It seems ArtCenter is a really popular choice for anyone studying entertainment art. Do you feel your time there was invaluable to your success in the industry? What do you feel are the biggest advantages you gained by studying at ArtCenter?
Artcenter's real advantage is its location, being close to a lot of entertainment and animation studios.
The entertainment art industry is small, and being close means that you can easily reach out to artists and studios.
At school I learned a lot about professionalism and the value of hard work.
Being surrounded by industry professionals really helped me take my portfolio to the next level and get myself ready for the industry.
Applying to ArtCenter was the best decision I've ever made, however, I was lucky to be able to afford it. For those who cannot I do believe that taking classes from other resources, such as CDA, Scholism, Brainstorm, and any other online courses can be another good way to improve your portfolio and make connections.
I believe, if you are passionate enough about your career you will find a way.
Many self-taught artists start learning by themselves but when you attend a school you're constantly surrounded by other eager artists. How important is it to have support and a group of artists to help you along the way?
The artist community means so much to me.
I am surrounded by a lot of highly motivated, talented, and like-minded people that encourage each other to work hard, grow, as well as have fun!
I was very fortunate to have my friends and mentors by my side during school, and they really shaped me into who I am today.
The animation industry is relatively small but everyone is nice and always willing to help each other along the way.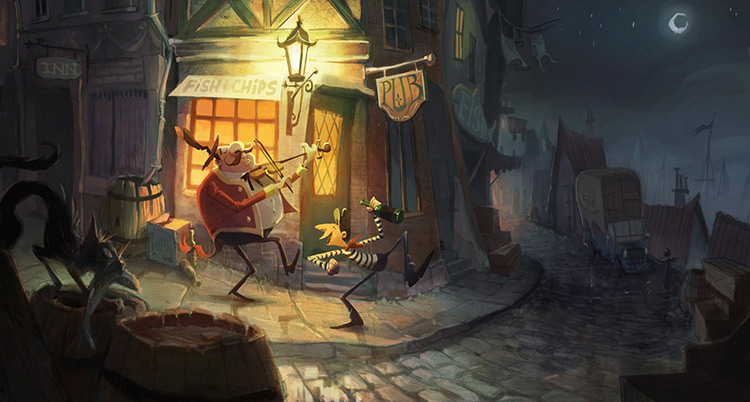 What are some of your biggest influences both from childhood and today? This could be artists, cartoons/movies, or anything that really influences your work.
One of my biggest influences is definitely Hayao Miyazaki's movies. I love all the themes that he explores in each movie, and the stories are all so beautifully told.
He inspired me to pay close attention to every day's moments, the subtleties of human interactions and emotions, and not be afraid to examine what's deep inside as well.
For inspiration, I look at a variety of artists and styles, such as illustration, graphic designs, photos, not only limited to animation/concept art.
I always try to check out up-and-coming animations as often as possible. I deeply enjoy the diversity of voices you can find within animation, which is what makes me fall in love with it in the first place.
Can you remember your first paying job doing background art? What was that like and what do you feel you've learned the most since initially starting in the industry?
My first gig was with Glow in the Dark concept studio, where I did a lot of concept art of characters and environments for their properties.
Working here really helped me figure out how to apply what I learned from school into production work.
I also worked briefly for the show "Victor and Valentino", now airing on Cartoon Network. It's amazing to be able to see my backgrounds on screen with the characters, and to see my name in the credits was definitely very exciting!
I'm currently one of the lead background designers at Hasbro for Transformers.
It's extremely intimidating since it's completely different from what I usually draw, plus it's for a highly reputable and distinguished production. I tried my best during my test and I continued to work hard even when I was brought onto the show.
From my experience working as a background artist for these various productions I think being able to adapt and match the style of the show is important.
I also learned to work closely with my art director and make sure everything looks good for final production.
How important do you feel drawing from life is vs. drawing from imagination, specifically for practicing animation art? And do you feel very realistic drawings are valuable even for people who want to draw cartoons, or is that more a waste of time?
Having a strong foundation is very important!
It's all about your art mileage. I know a lot of young artists are eager to work on projects for their portfolio, but if they don't understand perspective or anatomy it will show in their final designs.
Doing studies, going plein-air, or trying something new can all be great ways to challenge yourself and expand your toolsets.
Drawing from life will inform you of new information that you can never learn with shortcuts, and it will also enrich your imagination. A lot of animation is inspired from real life so I don't think it's a waste of time at all.
How do you feel working freelance compares to working in more of a studio environment like Titmouse? Do you have a personal preference, and which do you think is the best approach for someone new to the industry?
I have been fortunate to experience both working in a studio environment and freelancing, and I think there is a benefit to both.
Being in a studio teaches you how to work with other artists, as it is a collaborative effort.
On the other hand, freelance gives you the freedom of working comfortably in your own home with your own hours, but you have to worry about when your next gig is.
It is not uncommon for someone new to the industry to get freelance work and it's also a good first step to getting hired into a studio.
No matter what you start with, just be consistent and work hard for each job, which in turn will help you with your next one.
You published a brilliant illustration book called Cheese! somewhat recently, what was that process like creating that book and getting it published?
When I first debuted my book at Creative Talent Network Expo I was surprised at how well it was received!
Both Gallery Nucleus and Stuart Ng picked up my book for their store. I felt extremely honored as they are a highly distinguished gallery and bookstore in the industry.
I'm also glad to see that so many people enjoyed my work. It was extremely satisfying to have a physical print of my artworks in my hand, and know that my art reaches a lot of people and makes them smile!
When you're handed a new project brief how do you typically work creatively & get started on that? Do you care more about the story, the characters, the environment? Or maybe a mix of all 3 plus more?
I always started by asking myself: what story do I want to tell in this image?
Having a clear story moment is important because everything else you design(character, environment, props, etc.) will be to support that story.
Another element that I like to consider is the emotional undertone of the image, specifically, what do you want the audience to feel.
This is where colors, lighting, and camera angle really help determine the mood, which support the story moment.
For production work I pay attention to the script and storyboard to make sure the backgrounds I create fit in with the story scenes.
One important thing about designing background is to be aware of where the characters will be.
You have to make sure that the characters remain the focal point as they interact with the background, and the background has to lead the eyes of the audience with the action on screen.
How do you feel about the larger animation conventions like CTN Animation Expo? Are they worth attending even for a beginner artist & what should someone be looking to get out of that experience?
Just like the name suggests, it is a networking event for industry artists and it's a great place to meet and talk to studios and artists you admire.
I love meeting other artists and sharing our art and stories! I don't think you should expect to get job offers from attending, the main thing is to get feedback about your portfolio, and connect with people.
I will be attending Lightbox Expo which is another major convention for entertainment arts, and I would love to meet and help out students and other artists with their portfolio.
Lastly can you share any advice or pointers that you wish you'd known when you first started in entertainment art?
One piece of advice is to know what you want to do, and build your portfolio towards the job you want.
Be clear with your portfolio when you apply for jobs. It's not uncommon to have a few portfolios tailored to the job and studio you're applying to.
Do a lot of research and don't be afraid to ask questions from industry professionals who are already in the position.
Another one is to be genuine. Don't try to be someone you're not. Your own artistic voice matters, and people are going to notice it and remember you for it.
It's hard to find your personal voice but don't be afraid to share it, and you will always continue to develop it as long as you're still creating. Keep going and don't give up!
---