Best Free YouTube Channels For Teaching Yourself How To Draw
Resources
Disclosure: This post may contain affiliate links. That means if you buy something we get a small commission at no extra cost to you(learn more)
All the basic concepts of drawing and painting can be found online. But they're often scattered across many different channels on YouTube, which can be annoying and difficult to find exactly what you're looking for.
New artists can get frustrated easily so it's important to have resources available that'll help you improve. That's why I've collected this list of YouTube channels that offer free art tutorials & advice.
You'll probably recognize some of these names but others will be completely new. If you're just getting started then this list will definitely get you on the right track without spending a dime.
Stan Prokopenko
Everything that you'd ever want to learn can be found on the Proko YouTube channel. Stan Prokopenko launched the Proko brand in early 2012-2013 and it has seen a meteoric rise in subscribers.
His videos are produced with high quality lights, cameras, and sound equipment to give a genuine professional feel. He produces the best tutorials you will ever find covering gesture, portrait drawing, and anatomy, with more topics on the way.
There is simply no better place to start than with Proko videos. His teaching method is spot-on and perfect for a beginner.
And if you find his lessons useful I recommend his premium courses which have 3x-4x the amount of content. He includes lengthier videos with more examples and lots of user critique videos. All of his premium content is worth the money but start with his free stuff first to see what you think.
Sycra
The Sycra YouTube channel is also well known by artists who are teaching themselves. Sycra does a lot of varied videos that cover drawing, painting, general tips, resources, inspiration, basically everything related to learning art.
He does not have the same video quality as Proko. But it's still very good. You just don't see as much off-screen because his videos are recorded using screen capture.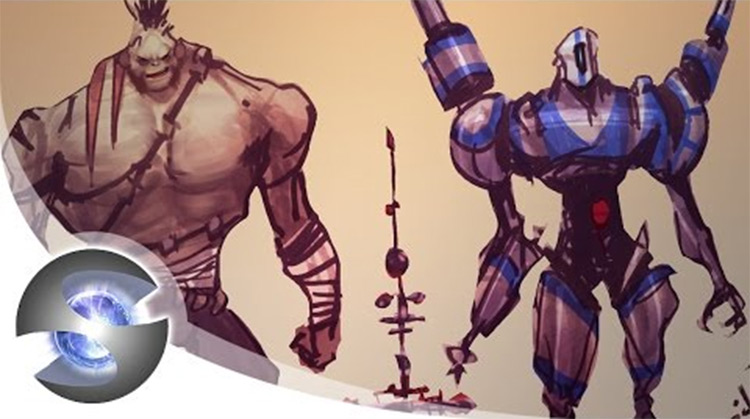 Sycra's channel is worth browsing if you're looking for specific intro videos. His content is really not made to be a study guide, nor does it give you a progression of content to follow.
It's more like a fun way to practice and to learn about some generic topics like perspective and color theory. I still think the Sycra videos come in handy for new artists. But take the content with a grain of salt because not all videos will be relevant to your practice.
Art of Wei
An artist by the name of Wei runs his own YouTube channel covering very specific tutorials on facial features, portraits, figures, cartoons, or whatever else people want to draw.
His videos often show up in YouTube search results when looking for "how to draw X".
Wei's channel is smaller than others, but he recently hit 100k subscribers which is a fantastic milestone.
Most of Wei's videos get into the 15-20 minute range but others can be longer while some are only 1-2 minutes.
Unfortunately a lot of his videos really won't help new artists. Following a video like how to draw Ariana Grande isn't going to teach you how to draw. It's just watching a trained artist draw and hoping you can copy his technique.
Try to avoid these videos if you can because they're like sugary candy for aspiring artists. Fun to watch, but not useful for internalizing the techniques required to draw on your own.
Draw with Jazza
I've seen a lot of weird stuff on the Draw with Jazza channel. He does cover lots of tutorials on drawing, most of which follow the constructionist method of drawing from a reference.
But other videos feature interviews with artists, reviews of art programs, and random streams that have nothing to do directly with learning art.
This is why I also don't think Jazza's channel is the best resource for new artists, at least not for direct learning. He does have some great videos and there are some tutorials that will likely help you a lot. But it seems like a fun channel to gather opinions and resource recommendations.
I just wouldn't suggest hanging around the channel all day. There's way better content out there and Proko's lessons alone will teach you a lot more in a shorter amount of time.
Bobby Chiu
Bobby Chiu is one of the founding artists of Schoolism and runs his own YouTube channel with a variety of content.
Some of his videos are more inspirational and generic. But he also features lengthy interviews with professional artists, and even has some tutorials explaining concepts on intermediate-to-advanced subjects.
The other good thing is that Bobby updates the channel frequently. He's been doing about 1 new video per week for the past few months.
This provides a steady stream of content for artists who might want to put on some videos in the background while drawing. He may not provide a lot of free teaching material. But his channel is worth checking out if you want to hear the thoughts of an industry professional.
Feng Zhu FZD
I've been following the FZD YouTube for a while and it has never let me down. There isn't much in the way of tutorial content since it's geared towards industry info and tips for aspiring pros.
Feng has been working in concept art since the late 90s and he now runs a large concept art school in Singapore. He's a real industry insider who knows a lot about the work and has a lot to offer new students.
His podcasts are more like therapy than classroom sessions. But they work great as background audio while you're scribbling away practicing.
Feng does have some Gnomon DVDs where he teaches perspective and other fundamentals for artists. They're hard to find but if you do a Google search you might be able to pick up a copy somewhere.
Alphonso Dunn
The YouTube channel for Alphonso Dunn hosts a brilliant collection of tutorials and tips for aspiring artists. This is definitely one of the better channels you could use for actually teaching yourself practical tips.
Alphonso does not update on a consistent basis, so you might get a few videos in a week then a drop off for 6 months.
But I find value in almost all of his videos and they're truly exquisite. He is not a master teacher but he does know his stuff. He explains vital concepts like how to see what you're drawing, how to shade value, and how to measure.
If you're selectively picking YouTube channels that actually teach you stuff then this is one worth subscribing to.
Circle Line Art School
After searching for some perspective tutorials I bumped into the Circle Line YouTube channel. This has new videos uploaded every week covering a lot of great fundamental topics.
I think this is a brilliant channel, although I'm not familiar with the school behind it. Looks like the Circle Line Art School is mostly made to be a free teaching resource. So their YouTube channel is naturally full of pragmatic advice.
Personally I'd still go with Proko videos for everyday practice because they give you technical exercises that you can follow. But I really like the Circle Line content and it should be added to your repertoire of free YouTube art channels.
Beginners are always looking for the best learning materials and YouTube has some great stuff. Books are handy but free content is usually preferred. These channels should offer more than enough content to get you started and keep you moving along your path as a growing artist.
And while free videos are definitely the best place to start, there's good reason to move onto premium content when you feel ready to take practice seriously.
I recently compiled a list of the best premium courses for teaching yourself art from scratch. That post may be useful if you're looking for higher quality video content but aren't sure where to start.
Once you're ready to move onto more in-depth courses check out that post and scout around to see what else you can find. Artists should always be striving to improve and it's important to seek out the information you need.
---