Best Drawing & Painting Apps For Mobile Artists (iOS + Android)
Creating art is easier than ever thanks to all kinds of incredible apps.
No matter what kind of art you like to make or what kind of budget you have, there's an app out there for you.
Whether you're an experienced digital artist or brand new to making art on a screen, you can easily find a user-friendly app that's intuitive and makes it fun to draw(or paint!) for hours.
To help you get started we've curated the absolute best art apps for smartphones and tablets. This list features something for everyone and we're gonna cover plenty of variety to help you find a mobile drawing(or painting!) app to suit your needs.
Procreate
Price: $5.99
Download For: iOS
Procreate has been getting lots of attention lately, and for good reason: its capabilities are stunning.
You can create just about any kind of art with Procreate, from oil and acrylic style paintings to pixel art, lifelike graphite drawings, digital illustrations, and so much more.
Procreate comes equipped with tons of different tools and brushes by default so out of the gate it's easy to use. But you can also make or purchase custom brushes that mimic traditional art mediums, or download other brushes online.
The app works best when used with an iPad and an Apple Pencil. The Apple Pencil may be the real star here because you can actually use it like a real pencil.
As long as you use the pencil with a compatible Procreate brush you can actually manipulate your line quality with tilt and pressure, just like you would with a real pencil. How cool!
This makes the app extremely intuitive to pick up, and a great option if you're new to digital art and maybe nervous about jumping in. If so I highly recommend this list of free Procreate tutorials for beginners.
Of course, this is also a favorite choice of seasoned digital artists too. Ultimately Procreate is a great drawing/painting app for artists of all levels, styles, and subjects. Biggest downside is that it's currently iOS-only but hopefully that will change in the near future.
Paper
Price: Free
Download For: iOS
Paper is an intuitive drawing app designed to help you jot ideas down quickly. It's not an app for creating finished art pieces. Rather it's for but recording, sharing, and working out ideas in a digital format.
If you're really nervous about drawing digitally and aren't looking for something with a ton of different functions, this might be a good one to start with.
It's also a great option if you do a lot of collaborations and need to send ideas back and forth between people. Or if you just need a way to jot down ideas while you're away from your sketchbook.
The interface is highly visual and intuitive but not as detailed as Procreate.
But with Paper you can set up panels for comics or storyboarding with drag and drop functions.
It's simple to use and really shines as a way to quickly record your ideas while you're on the go.
You can sketch, draw, hand write notes, storyboard, diagram, and even drop in templates to help you iterate ideas faster.
Concepts
Price: Free
Download For: iOS
If you've got time to learn the GUI you can create some seriously impressive stuff with this app.
Start with the basic free app to try it out, and upgrade to pro later for more functionality.
Concepts is designed for professional artists and boasts many users from Apple, Disney, PlayStation, Unity, and more.
Like Procreate, Concepts is designed to work best on an iPad with an Apple Pencil.
The app comes with a variety of brushes and you can use layers to track your changes. Mix colors and add them to your palette, or use the color vector picker to grab colors from existing images.
While it does have color mixing and blending capabilities, Concepts seems to work best for cartooning and technical illustrators, not so much for really painterly stuff.
If you use a lot of solid colors this will probably work well for you.
This app is great at line stabilization so it's definitely a drawing app.
You can even adjust the stabilization settings to make your lines look sketchy and artsy, or you can turn it way up to get a little tighter.
Autodesk SketchBook
Price: Free
Download For: iOS + Android
Autodesk SketchBook basically works like a sketchbook for your mobile device.
You can use this for practice and to work out ideas, but not really to draw your finished pieces in.
One nice feature: you can access your sketchbook from all of your devices whether they're Android or iOS.
Draw right in the app with a wide variety brushes, or use the app like a scanner and photograph your line drawings which you can adjust in the app.
By adjusting your existing drawings you can add a transparent background, new colors, and funky textures.
You can also get free brush sets for this app or upgrade for even more tools and premium brushes. Autodesk's predictive stroke feature is really cool and can speed up your drawing process quite a bit.
If you're just dipping your toes into digital art then this app is great. Or if you're primarily a traditional artist and just want to quickly play with sketches before you commit to a course of action this app will definitely help you get started fast.
Just note: Sketchbook isn't meant for fancy finished pieces so it's not a true painter's app. But it's great for quick sketches and working out concepts from anywhere in the world.
Adobe Photoshop Sketch
Price: Free
Download For: iOS + Android
This mobile app is a scaled-down version of Adobe Photoshop made to fit your smartphone screen.
It works much the same way but runs on a touchscreen and it can save all your artwork right to your Adobe Cloud account. And Photoshop Sketch supports the same setup as Procreate where you can paint directly on an iPad Pro with an Apple Pencil.
Photoshop Sketch is perfect for Photoshop or Illustrator artists to take down ideas for later. And because you can send your files right to your desktop this makes it super easy to keep working.
The app is quite intuitive because it's well laid out for use on a tiny screen. You can easily select brushes, color palettes, new tools, and make quick layer adjustments.
You can also get rid of the menus completely so you can have your whole screen to draw on. Then bring 'em back when you're ready to adjust something.
This is truly a beginners app but it's also the ideal choice for Photoshop artists who want a slimmer version of their favorite digital art program on the go.
Affinity Designer
Price: $13.99
Download For: iOS
Affinity Designer is a vector design app specifically for the iPad, and it's stellar at creating graphics and even concept art.
The app is a compact version of the desktop software optimized for smartphones, but you can also use it with the Apple Pencil to utilize tilt and pressure control. Affinity is quick, responsive, and kind of similar to Adobe Illustrator by working with vector pieces.
So if you have experience with Illustrator you can probably jump right into this.
One of the best parts of this app is the grid setup and snappy line stabilization which is key for drawing on a small screen.
Use the grids to guide you and adjust the line stabilization depending on how loose you want to get. The lines snap in perfectly to create smooth shapes every time, even if you're drawing pretty loosely on a bumpy bus or train.
You can also turn stabilization off to draw freehand, then match things up later by moving your elements around after you draw them. With those kinds of tools your artwork comes together very quickly.
Another cool thing about this app is that you can open Photoshop files without losing your layers, fonts, or guidelines.
I'd argue that Affinity Designer is more of a graphic design tool than a program for drawing finished pieces, but it's great for designing on the go and it does work nicely for artists who prefer a digital medium.
Sketch Club
Price: $2.99
Download For: iOS
Sketchclub is a flexible app that allows for drawing, painting, photo manipulation, and even typographic art.
It boasts a ton of different features on a dime so you can create just about anything you want.
It's simple to use and functions like a pared down version of Photoshop, but with fewer featuers behind its name.
However it uses layers in a similar way which is incredibly useful on mobile. You can even make it your own by customizing your settings and menu bar so you have easy access to your favorite tools.
The big appeal of this app is the online community. You can join daily drawing challenges, get access to tons of awesome tutorials, and view other artists' work online. It's like you're all learning together!
You can also participate in drawing collabs on the community whiteboard or share critiques with friends. Oh, you can also make new friends.
If you love to learn and draw with other people then give Sketch Club a try.
ArtFlow
Price: Free
Download For: Android
ArtFlow is a pretty basic drawing app so it's a decent one to start with for Android users. Especially those who just want to try digital drawing or want an app specifically for finished drawings(it's also totally free).
After playing around with ArtFlow you'll realize it works works like a digital sketchbook, which is great for drawing, but it doesn't do much for intricate digital paintings.
If you're mostly interested in pencil, charcoal, pastel, or similar things like that, this is a good app for you.
The layout looks similar to Photoshop but also has a Krita-ish feel. You can even use Samsung's S pen or a similar pressure sensitive stylus on a tablet for additional functionality.
Use the huge collection of 80 free brushes that come with the program, or create your own custom brushes!
You also get up to 16 layers to work with—a lot more than most free apps.
One of the coolest features of this app is palm rejection, meaning it will only pay attention to your stylus and you won't accidentally close the app or wreck your drawing if you rest your palm on the screen.
Absolutely a brilliant drawing app for beginning digital artists who prefer Android devices.
Comic Draw
Price: Free
Download For: iOS
Most of these apps are pretty general and work for many different kinds of art. But this app is designed specifically for comic creation, and it does that one thing really really well.
Comic Draw works great on the iPad Pro with the Apple Pencil but you can also use another pressure sensitive stylus(read: cheaper).
Comic Draw has great layer functionality too and it's something you'll come to expect with these mobile drawing/painting apps.
Inside you'll get perspective guides, lots of textures, free brushes, and plenty of fonts, and even tools for editing scripts if you go that route.
You'll also get a separate sketch area for working out ideas right in the app.
If you're big on sharing artwork you can export everything you draw to AirDrop, iTunes, Apple Photos, and more in different file formats.
With dozens of brushes and over 130 fonts, comic lettering is super easy.
The app even allows you to publish and share your comics instantly so this can be used for both creating and reading comics. Neat huh?
Pixaki
Price: $24.99
Download For: iOS
It's great to have multi-purpose tools around, but sometimes you want a tool that's really good at one specific thing.
And that's exactly what you'll get with Pixaki: a mobile drawing app made specifically for pixel art.
Think 16-bit game style, isometric drawings, and simple animation.
By default this ships with some handy tools for drawing geometric shapes to make things even easier. Draw something from scratch, or import photos or sketches and turn it into pixel art by drawing right on it.
If you've never done pixel art this is a pretty decent app to get started.
Also did I mention you get up to 50 layers per frame? You can even create and save palettes to import into whatever piece you're working on, which can be super handy if you're drawing an ongoing comic in pixel form.
The paint bucket tool is also super cool. You can use it like you normally would in a typical paint app, or you can replace all instances of a certain color with a different color.
Don't like that red you used all over your drawing? Instantly change all of it with one tap. Or if you don't want to replace all of that color you can make the paint bucket layer specific. Easy!
Only big downside here is the price. It's one of the more expensive choices in this list so you'll probably want to look into other pixel art software and put in some time practicing before moving onto this.
Infinite Painter
Price: Free
Download For: iOS + Android
You can do a whole lot with this free little app.
Infinite Painter is tailor made for sketching and painting on your phone and tablet. Its built-in brushes are incredibly diverse and work like actual paint on a digital screen.
You can mix colors, paint wet on wet with watercolor brushes, and basically jump right into this app. It feels very natural for anyone with painting experience.
The tools you need to access the most are right there, 1 tap away.
The well-designed layout makes it simple to change brush sizes and color choices quickly. You can also sample colors from anywhere in your paintings.
The minimal layout is designed to keep your drawing space clear so you don't get lost in menus to find what you need. Infinite painter also makes it easy to see which tool you have selected, because it's the only one you can really see.
Use layers, create masks, add symmetry tools, and work with selection tools similar to what you'd find in Photoshop. You can even create your own brushes and modify the ones that come with the app.
This may not beat Procreate but it's up there when we're talking about digital painting apps for smartphones. And when you start a painting you can record a video of your process to create your own speedpaint videos.
ArtRage
Price: $2.99 – $4.99
Download For: iOS + Android
With ArtRage you can create gorgeous paintings and drawings that perfectly emulate working on a desktop computer.
The canvas textures are beautiful so it looks like you're painting on actual canvas. You can even customize your paper to get the exact texture and line quality you're looking for.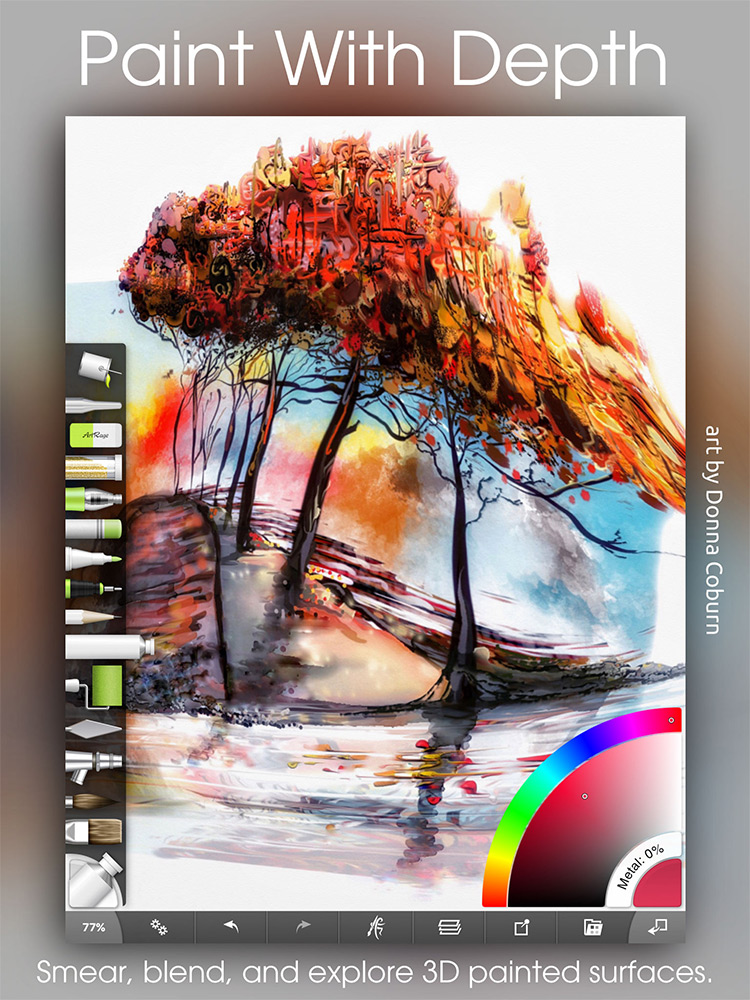 Rearrange the workspace and save all your settings to customize the interface to your needs.
This is a brilliant program for traditional artists who want to continue working in their style, but with the benefits you get in digital art(ex: undo, painting over layers).
It's also great for seasoned digital artists because it can work a lot like Photoshop or Krita.
You also get a full set of stencils, grids, and perspective guides to speed up your painting process. You can tell ArtRage was created with artists in mind.
MediBang Paint
Price: Free
Download For: iOS + Android
This fantastic app is made specifically for drawing and creating comics, and you can use it on your desktop or mobile device(or both!)
It uses cloud storage by default so it's easy to transition between your devices and continue working on the same piece.
This means you can also easily share your artwork with others for collabs.
Due to its mild complexity MediBang Paint might not be the best for beginners who have never used digital drawing apps before. But if you have some experience you'll probably really like it.
The mobile and desktop versions do feel a bit different so try both and see what you think.
ibis Paint X
Price: Free
Download For: iOS + Android
ibis Paint X makes it easy to create beautiful art on a small smartphone screen.
This free app comes loaded with 142 free brushes to emulate all different kinds of pens, pencils, and paintbrushes. You can adjust the brush settings quickly with a slider tool and preview brushes in real time.
The app can be used to record your process as a video so you can view it later or upload it to YouTube.
You can also upgrade to prime to get a few more features, although the free version is enough for most artists.
You'll find great linework for drawing on a small screen and the app works great with concept art, anime/manga, or any type of illustration work.
There is also optional pressure sensitivity and you can load images to trace with the easy tracing mode.
The interface is really simple to pick up, especially if you've used drawing apps on your phone or tablet in the past.
Yet even if you're new to digital art you'll probably find this fairly intuitive if you don't mind playing around with it. Granted I still don't think it beats out Procreate but this is a viable choice for Android users at a cheaper budget.
Mobile apps are still fairly new but it's amazing what we can do with them.
Whatever your goals are with digital art, whether it's a new career path or just something to doodle while you wait at the dentist's office, these drawing apps are a great way to get started and practicing building your skills wherever you are.
---
---